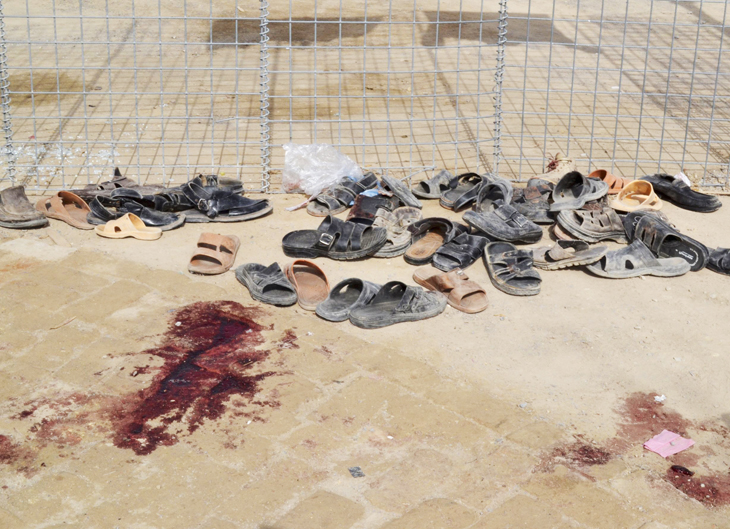 ---
QUETTA: At least 11 people were killed and several others injured in multiple attacks in Quetta on Friday, Express News reported.

One person was killed in a firing incident that took place early morning on Sariyab Road.

"Two people were targeted. One of them died. One was injured," said an Express News correspondent.

Gunmen also killed at least 10 people and wounded many others after opening fire outside a mosque on the outskirts of Quetta, police said.

Senior local police official Bashir Ahmad Brohi said a former Pakistan Peoples Party  provincial minister, Ali Madad Jatak, was also in the mosque and could have been the target.

"The majority of the injured faithful were coming from the mosque," said Brohi. "It was an armed attack on the former minister ... it was not an attack on the mosque."

However, Jatak escaped unhurt.

Another local police official, Sultan Ahmad, confirmed the incident and casualties outside the mosque, which is also a preaching and research centre.

"Following the firing, eight suspected militants were arrested and klashinkovs and other weapons were recovered from their possession," said Express News correspondent Shan Hussain.

Nobody has so far claimed responsibility for the shooting.

Commissioner Quetta while on his visit to review to security situation of the city today, said the city lacked personnel to secure every location.

Yesterday, a suicide bomber killed 30 people including Deputy Inspector General Operations (DIG) Fayyaz Sumbal and Deputy Superintendent Police (DSP) Shamsur Rehman at the funeral of a policeman in Quetta -- the third deadly attack on government targets in two weeks.

Most recent attacks in Quetta, the capital of oil- and gas-rich Baluchistan province bordering Afghanistan and Iran, have been linked to a Baloch separatist insurgency or sectarian violence.

The United States has warned citizens not to travel to Pakistan and has ordered the evacuation of non-essential staff from its consulate in the northeastern city of Lahore due to the threat of attack.
COMMENTS (43)
Comments are moderated and generally will be posted if they are on-topic and not abusive.
For more information, please see our Comments FAQ