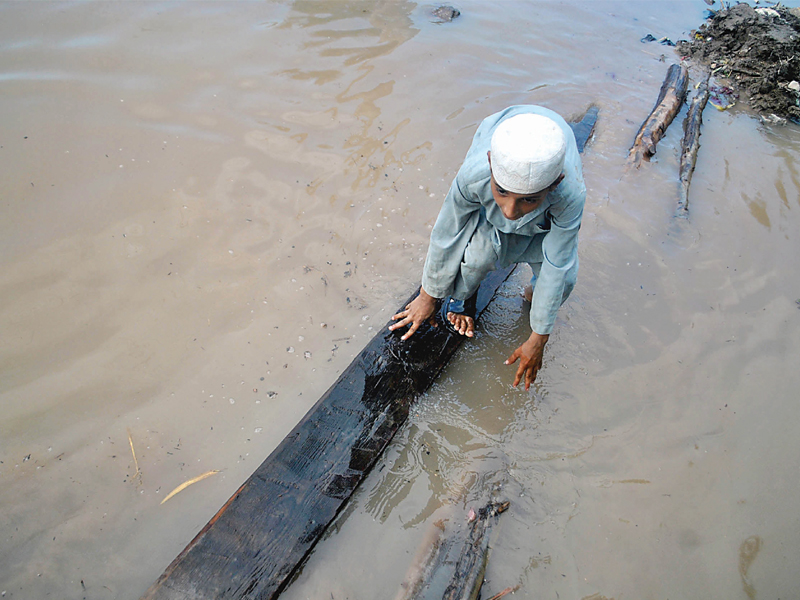 ---
CHITRAL/ QUETTA/ KARACHI/ CHARSADDA:



As the countrywide death toll from the torrential rains and flooding soared past 80, the hardest-hit Jhal Magsi district of Balochistan braced for a massive hill torrent which could cause widespread damage in the region.




Fresh casualties were reported mostly in Karachi, where 20 people died in rain-related incidents overnight and on Sunday, while 10 people – among them women and children – died in Balochistan, taking the two-day tally to 81.

Some parts of Karachi received light showers on Sunday where municipal workers, aided by army troops, were seen pumping out rainwater from different neighbourhoods.




Twenty deaths were reported in Karachi on Sunday – a day after 16 people were killed in rain-related incidents. The fatalities, mostly women and children, were caused by electrocution and drowning in Gulistan-e-Jauhar, Amroha Society and Saadi Town. Police and rescuers fear the death toll could rise as floodwaters recede.

In Balochistan, Jhal Magsi is bracing for a huge hill torrent from the mountainous Jhalawan area. Officials fear the torrent carrying around 250,000 cusecs of water might wash away many more homes and destroy acres of farmland in the district.

The top district administrator has ordered the evacuation of the historic city of Ghandawa. People have been advised to move to higher ground as the torrent may hit the city sometime after midnight. The flooding could also engulf the villages of Saifabad, Kot Magsi, Misri Goth and other adjoining areas.

At least 18 people – mostly women and children – have been killed in rain-related incidents in the province over the past 48 hours.

The incessant rains in Jhalawan, in central Balochistan, have caused flooding in all seasonal rivers. The surging waters submerged settlements and villages on the banks of these rivers, damaging infrastructures and destroying properties.

Khuzdar, the second biggest city of Balochistan, and Karakh, Nal and Zehri areas have been badly affected. Central Balochistan was cut off from upper Sindh after the Khuzdar-Shahdad Kot highway was blocked due to landslide.

Heavy rains also lashed Kalat, Mashkhel, Sibi, Panjgur districts where normal life was paralysed and standing crops destroyed, including quality date palms of Panjgur and Mashkhel.

Hill torrents from DG Khan and Marri-Bugti hills also caused widespread damage in Musakhel where mud-houses collapsed, communication disrupted and cattle swept away in floodwater.

In the Pat Feeder Command area, more than 42 mud-houses collapsed. The Quetta Electric Supply Company (Qesco) has suspended power supply to the region as a precautionary measure.

Overall, the damage to infrastructure is colossal, as most culverts, causeways and bridges in all three regions of the province have been washed away. Thousands of villagers in these areas are marooned. They have taken shelter on high grounds where they are living under the open sky, without food or even water.

In Punjab, the southern Dera Ghazi Khan Division has been badly affected by the monsoon rains and ensuing flooding. "All government officials on leave have been called back to expedite relief activities," Commissioner Muhammad Amin told The Express Tribune.

The Punjab government has set up 15 more flood relief camps in state-run schools and government buildings in the Taunsa sub-district of DG Khan. Flooding in the Indus River submerged several villages and hamlets on its banks. The worst-hit are the villages of Basti Moga, Basit Dakna and Darya Shah.

Punjab Assembly Deputy Speaker Sher Ali Gorchani, who is from south Punjab, visited the flood-hit areas in Rajanpur district to assess the damage. "Army helicopters are involved in rescue and relief activities," Gorchani told The Express Tribune.

Agriculture Secretary Dr Ijaz Munir said that standing crops of rice, cotton, maize and wheat on 80,000 acres of farmlands have been ravaged by the flooding. He feared that damages could be colossal as the department awaits reports from its district officials.

Reports and deaths and destructions also poured in from Khyber-Pakhtunkhwa and adjoining tribal regions. Officials say that six tribesmen have been killed in flooding in North Waziristan Agency and Bannu district over the past two days. Scores of cattle have been washed away and hundreds of acres of farmlands have submerged.

As of now, Chitral is the worst-hit district of the province where hundreds of people have been rendered shelterless. Angered by the inefficiency of the district administration, the affected people from Chaghor staged a demonstration. The protesters dispersed after the top district administrator provided machinery to remove rubble and pump out rainwater from the area.

Published in The Express Tribune, August 5th, 2013.