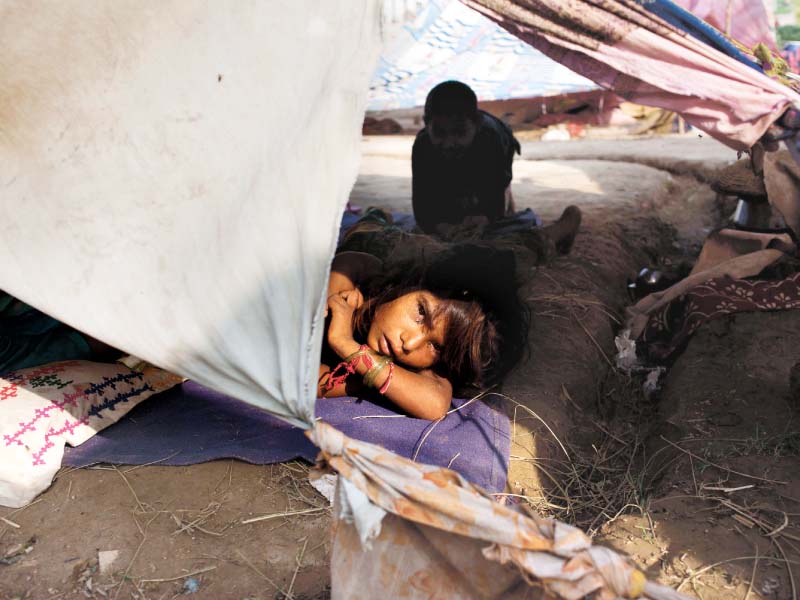 ---
ISLAMABAD:



On a stretch of road that winds into the foothills of the Margallas is the shrine of Pir of Golra. Here, childless women make offerings and rosy-cheeked child-beggars cling to car-doors, chasing cars until they speed off onto a dusty road that trims near a wedding hall. A small nomadic community lives here, their tents patched together in a burst of colour.




The tents, propped up with cane wood and sewn together with clothing items and torn sheets, stand to endure the wrath of harsh weather. If they fall, they are propped up again, like the people who live in them. The nomads have a resilience that is both tragic and hopeful.

Naghma Ali sits near a steel trunk where her tent once stood. Her belongings are numbered and scattered: remnants of the tent, now a mound of moldy fabric. Some hand-me-down clothing, a stray shoe and a tattered purse. With a six-month-old in her arms and two other infants tugging at her shalwar, bare-bottomed and soiled, this 25-year-old divorcee doesn't have an easy life.

"The rains knocked it down," she said, with both resignation and bitterness.  "All I want is a new tent," her tone soft, Naghma has little energy to wish for anything more. "I am camping in someone else's tent because my mother has refused to look after the four of us," she explained, quickly adding, "She has five children of her own and is a widow."

After the 2011 floods, Naghma's father up-hauled his family from Gujarat to Islamabad. After he passed away, his widow has to knock on car-windows to feed the family.  "There is no humanity here," explains Naghma's mother, Malangi. "Able-bodied men will push us, sometimes even beat us up."

Thousands of Pakistanis leave their villages every year to embrace the ungraceful opportunities of bigger cities. Some 58.7 million people in Pakistan live below the poverty line and an estimated two million have migrated to cities in the last two years.




Ramazan nomads

While Naghma and Malangi are permanent residents of the area, the rest of the community is marked with impermanence. The lure of the generosity of elite of cities during the holy month of Ramazan, encourages nomads to travel to major urban centres.  "After Ramazan, ours will be a lone tent," shares Malangi with a bitter laugh.

Hooked onto charity

Sajid Hussain, 18, is a nomad who claims to have worked at a construction company before the floods hit Muzzafargarh two years ago. He has little to say when asked why he has not returned: "The water is still there".

"We are poor, our kids are poor," says Lal Khan, as she squats in a group that has assembled to deliver rehearsed lines about grief and loss. They are upset when asked why they have made little effort to find employment. Everyone in this community, old or young, has hands outstretched.

"The rich taunt us for having so many children despite our poverty, but what can we do? They need to educate our men, we are helpless," justifies 28-year-old Rani Bibi.

Abject poverty

Bhang grows in patches in the sprawling fields adjacent to the tents which is a source of earning, though no one wishes to comment on it.

The fields also serve as a toilet, though the younger children often don't bother to go that far.  The women visit the shrine twice a day to fill up their containers with water, though there is never enough to shower and hygiene is unimportant. Stray dogs linger under the tents with a sense of entitlement and dirty water stands in small pools around the tents.

"When we want to shower we go to the public restrooms near the shrine," explains Rani Bibi, "but we rarely have clean clothes to change into and we are not allowed to wash our clothing there. People are scared of us, as if we are savages."

Published in The Express Tribune, August 3rd, 2013.