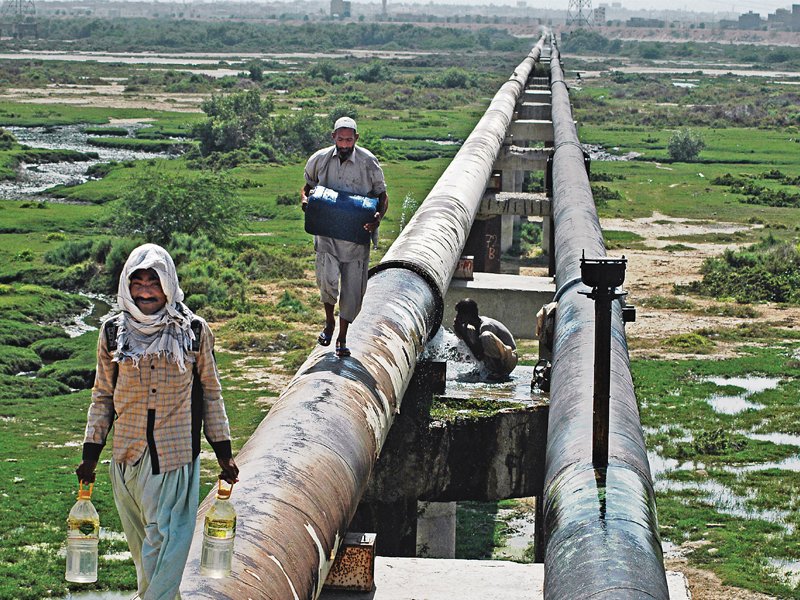 ---
KARACHI:



The Karachi Water and Sewerage Board (KWSB) seems to be struggling to quench the thirst of a thriving city of 18 million people. One way it can improve the situation is to bring new blood on board, said Prof. Noman Ahmed, the chairperson of NED University's architecture department.




On Wednesday Oxford University Press, in order to mark World Environment Day, organised a seminar at which Prof. Ahmed delivered a lecture on Karachi's water woes. He spoke to the eager audience for nearly an hour, pausing occasionally to let the audience take in a number large maps and thought-provoking shots of Karachi's slums woven into the presentation.

There's not enough water to go around because of political interference, aging infrastructure, unprecedented development and a swelling population, said Prof. Ahmed. "The city's daily water requirement is 837 million gallons," he said.

"The water board is inefficient and the alleged 'tanker mafia' doesn't want the city's demand for water to be met for its own benefit. "Getting water through tankers is no longer an option used in case of emergencies - it has become a commercial enterprise." Prof. Ahmed added that the city's water board is mired in debt. "It owes more than Rs52 million to international donors," he said, adding this was why there were plans to privatise the organisation back in 1995.

He added that urban water supply is conventionally facilitated through an underground pipe system. In most developing countries, the system is underdeveloped and doesn't meet demand. Prof. Ahmed said that communities in such countries turn to alternative sources to obtain water. "They include boreholes, water tankers, pumps and drawing water informally through the main."

Prof. Ahmed then offered a couple of suggestions which could help alleviate the situation: the utility has to be revamped by injecting fresh blood into it and making it an attractive place to work for competent professionals. He added that the current tariff structure must also be revised.

Prof. Ahmed said consumers must pay the water board for its services - currently around 10 per cent of them pay their bills. He said the water board's inability to respond to complaints, the ad hoc way in which the utility functions and poor consumer relations also disrupt smooth water supply in city.

He added that a regulatory body should be formed to oversee the supply of potable water, focus on consumers' concerns and ensure that all dues are collected promptly. A master plan to revamp service based on scientific planning and management should be sketched out, said Prof. Ahmed.

Oxford University Press has also published Prof. Ahmed's book on the subject titled 'Water Supply in Karachi: Issues and Prospects'.

Sale of water through tankers banned in Hyd

Hyderabad Development Authority's director general, Ghulam Muhammad Kaimkhani, has banned the sale of water through private tankers. He announced the ban at a meeting with Water and Sanitation Agency (WASA) officials on Wednesday.

The decision came following the orders of Governor Ishratul Ebad, who had been getting complaints about a 'tanker mafia' causing an artificial shortage of water. Kaimkhani asked WASA's managing director, Salimuddin, to stop the system whereby people were signing contracts to receive water through tankers.

Published in The Express Tribune, June 7th, 2013.
COMMENTS (1)
Comments are moderated and generally will be posted if they are on-topic and not abusive.
For more information, please see our Comments FAQ