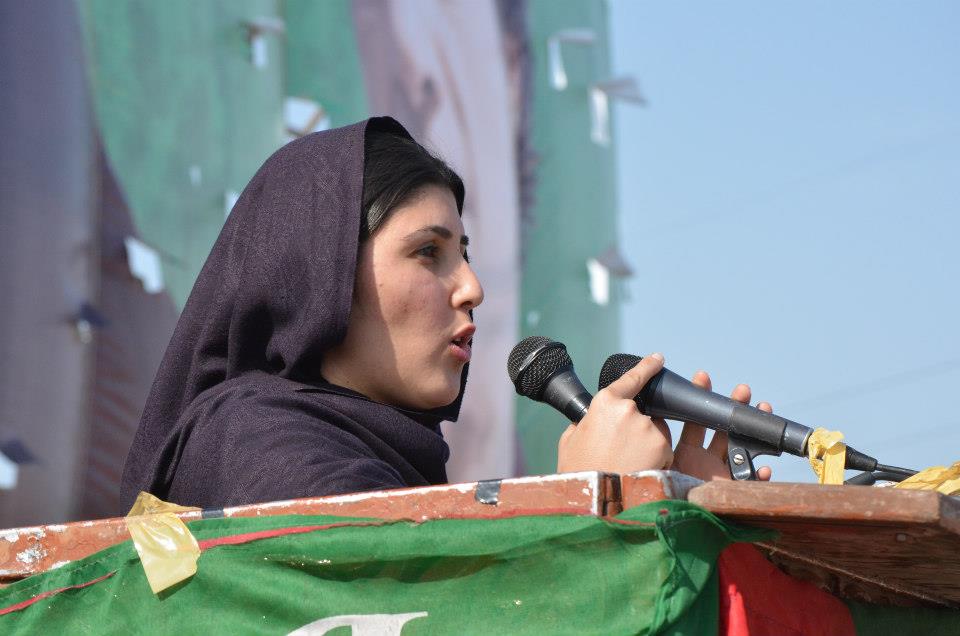 ---
ISLAMABAD: With late Benazir Bhutto as her ideal, Pakistan Tehreek-e-Insaf (PTI) MNA Aisha Gulalai wants to empower women of the tribal areas.

The newly elected MNA made her way to the Parliament last week on a reserved seat. "I'm worried about the condition of women in the troubled valley of South Waziristan—worst affected by the militancy," she told The Express Tribune in an exclusive interview on Sunday

Gulalai had been a worker of Pakistan Peoples Party Parliamentarian (PPPP) and All Pakistan Muslim League (APML). "Benazir Bhutto treated me like her daughter," she recalled.

Vocal critic of drones, Gulalai - who is a sister of Pakistani Squash player Maria Toor – entered politics during her student life. "Drones violate state's sovereignty," she said, adding that PTI chief Imran Khan wants to end foreign involvement in Pakistan's affairs.



A Master's degree holder from the University of Peshawar, Gulalai is fond of former military dictator General (retired) Pervez Musharraf.

"His period was much better than the PPP's in terms of development," she explains.

Praising her mother – who is a school principal in Khyber Agency - for supporting her children, the young MNA said her mother has always been a source of encouragement.

Proud of the close affiliation she has with the young women in her region, Gulalai said the role of tribal women is very important in getting rid of militancy from the tribal belt.

"We will press the government to bring peace in the war-torn areas of Khyber-Pakhtunkhwa," she said, adding that she feels people in this area are still living in the Stone Age.

The young politician said her party will try its best to call for demarcation of the tribal belt as a separate province.

Inspired by Malala Yousafzai and her courage, Gulalai stressed on the importance of gender equality in order to achieve the country's millennium development goals.
COMMENTS (23)
Comments are moderated and generally will be posted if they are on-topic and not abusive.
For more information, please see our Comments FAQ