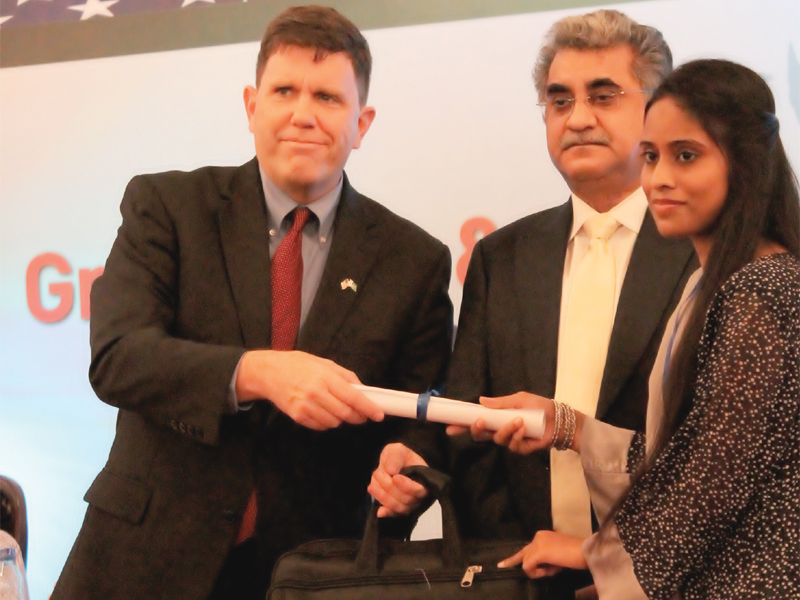 ---
KARACHI:



The importance of education is not only limited to students but also for those who impart knowledge and that is why the United States aims to strengthen the education roots in Pakistan by investing in higher education and teacher's training programmes.




Muhammad Tariq Khan, the senior education advisor of the United States Agency for International Development (USAID), shared these views while talking to The Express Tribune on Thursday.

He was attending a ceremony where 200 students, who have enrolled into two-year associate degree (ADE) and four-year Bachelors programme in education (BEd Hons) at public colleges and universities in Sindh, were awarded Rs20,000 each in the form of scholarships.

The programmes were a part of USAID's Teachers Education Project to bring reforms for long-term sustainability in Pakistan's education sector in partnership with the provincial and regional education departments. "The United States is committed to building a strong Pakistan. There is no better way to do this than to help ensure that Pakistanis have the education they need to find jobs, start businesses, support their families and community, and contribute to the growth of this great nation," said the US Consul General Michael Dodman, who was presiding over the ceremony. The consul general was joined by Sindh education department's secretary Dr Fazlullah Pechuho, university vice chancellors and college principals.


US Consul General Michael Dodman and Sindh education department's secretary Dr Fazlullah Pechuho awarded scholarships to 200 students as part of the USAID's Teachers Education Project on Wednesday. PHOTO: EXPRESS

The $75 million initiative was successfully launched last year at 86 colleges and 13 universities across the country, said Khan. More than 2,800 prospective teachers were enrolled in the ADE programme at colleges and another 1,200 had joined the BEd (Hons) programme at the universities. Apart from development and implementation of innovative curricula for the students of these two programmes, around 1,900 students of the total enrolled were set to receive scholarships in each semester.

The idea behind the scholarships was to attract people towards professional teaching. "Until today, people became teachers in Pakistan by chance and not by choice. Those who did not find anything significant in life to do turned to teaching," he remarked. "We want to bring a change, making sure that those people come into the profession who are dedicated to the cause and take it up as a challenge."




The USAID hoped that graduates of the programme will work as teachers at schools in their respective districts to improve the educational scenario. "The pedagogy in both the programmes is different as we have moved away from the traditional rote-memorisation to the new paradigm of analytical and student-centred learning."

Growing interest

Yosra Masroor and Sumroze Saeed, who are enrolled in the four-year Bachelors programmes at the University of Karachi along with 48 other students, said that after the first batch of 23 students, the second batch saw around a 100 per cent increase in enrolment. "Still a lot of people do not even know about the two-year and four-year programmes supported by USAID scholarships and perhaps more exposure is required to create awareness," said Saeed.

The enrolled students appeared satisfied that after the extensive learning and training over four years, they will be hired on worthy teaching posts of grade 17. "If the incentives are great, I believe male and even female teachers would not be reluctant to go to remote areas to dispatch their professional duties," remarked another student, Mariam Iqbal, as her classmate, Noman Habib Vohra, nodded in agreement.

Published in The Express Tribune, May 30th, 2013.