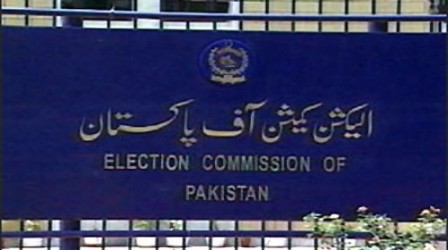 ---
KARACHI:



The election commission has finalised the list of people who have been allotted reserved seats in the National and Sindh assemblies.




The reserved seats in the provincial assembly have been allotted on the basis of a list submitted by Pakistan Peoples Party (PPP), Muttahida Qaumi Movement (MQM), Pakistan Muslim League - Nawaz (PML-N) and Pakistan Muslim League - Functional (PML-F) before the general elections.

The provincial election commission's director, Najeeb Ahmed, told The Express Tribune that the poll body has revised the formula to allocate provincial assembly seats reserved for women and minority groups. For every nine MPAs from a particular party, two reserved seats are allocated to its listed members. Similarly, for every 14 MPAs from a political party, a reserved seat for minority groups is given to listed members.




"Elections are not held for reserved seats. We appoint MPAs by looking at the priority list and parties' recommendations," said the director. He added that a notification would be issued before the upcoming Sindh Assembly sessions where all members have to take oath.

Reserved seats for minorities and women were introduced during General (retd) Pervez Musharraf's rule, giving them equal opportunities in the parliament. The National Assembly has 342 seats of which 60 are reserved for women and 10 for non-Muslims. Women and members from minority groups can also be elected from general seats.

Half of the 14 National Assembly seats reserved for women in Sindh will go to PPP, given its mandate. Faryal Talpur and Dr Azra Pechuho - President Asif Ali Zardari's sisters - are at the top of PPP's list for these seats. But since both of them were elected on general seats, other  women will take the reserved ones instead.

The women on PPP's list for reserved seats include former MNA Shagufta Jumani, Nafeesa Shah, former chief minister Qaim Ali Shah's daughter, Shazia Marri, the former information information minister who was defeated on May 11 by the PML-F candidate in Sanghar, former MNA Mahreen Bhutto, Musrat Mahesar and Shahida Rehmani.

Election commission officials said that four women from MQM have also been allotted reserved seats. They are Kishwar Zehra, Nighat Shakeel, Samina Sultan and Fauzia Hameed.

Welcome to the provincial assembly

In the Sindh Assembly, 29 seats are reserved for women. PPP has so far won around 67 provincial assembly seats. Election commission officials said 14 women MPAs from PPP have been elected. They are Shehla Raza, Sharmila Farooqi, Erum Khalid, Kulsoom Chandio, Rehana Leghari, Rukhsana Shah, Sajeela Leghari, Rubina Qaimkhani, Ghazala Sial, Shaheena Sher, Shama Mumtaz, Shahnaz Ansari, Seemi Soomro and Saira Shahliani. Two women from PML-F, Nusrat Sehar Abbasi and Mehtab Akbar Rashdi, are also on the list.




MQM has so far won around 37 provincial assembly seats, so it will be allotted eight provincial assembly seats reserved for women. The woman from the party who have been given the reserved seats are Bilqees Mukhtar, Heer Ismail Sohu, Seema Afzal, Shazia Jawad, Erum Farooqui and Ayesha Aftab.

The election commission earlier said one seat reserved for women can be given to PML-N, which has four MPAs. But following National People Party Shirazi groups' merger with the party, PML-N now has nine MPAs in Sindh. Sorth Thebo has also been given a seat reserved for women. The decisions on 10 provincial assembly seats is pending as results have been challenged.

Reserved seat for minorities

In the provincial assembly, there are nine seats reserved for non-Muslims. Five seats have gone to PPP members, Lal Chan Ukrani, Gianchand Israni, Mukesh Kumar Chawla, Peso Mal and Khatu Mal Jewan. Two MQM members, Bhojo Mal Bhel and Arif Bhatti, have been given reserved seats as well.

Published in The Express Tribune, May 26th, 2013.
COMMENTS
Comments are moderated and generally will be posted if they are on-topic and not abusive.
For more information, please see our Comments FAQ