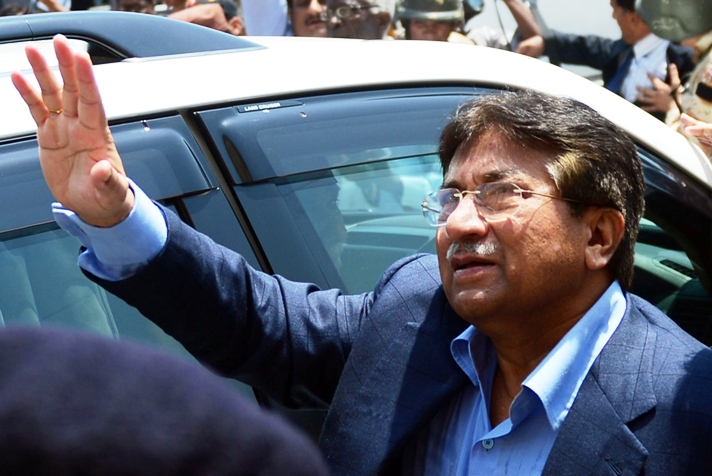 ---
ISLAMABAD:



General (retd) Pervez Musharraf's counsel Ahmed Raza Kasuri said an appeal will be filed in the Supreme Court today (Friday) over the Islamabad High Court's order to arrest the former president.




"The appeal will seek both bail and the exclusion of terror charges added by the IHC against the former president," he added.

Another of Musharraf's counsels, advocate Ibrahim Satti said: "We will seek pre-arrest bail in the judges' detention case and ask for quashing of Islamabad High Court's order to arrest him."

Kasuri said his client expected that the Supreme Court, without prejudice, will immediately grant necessary relief following precedence and the rule of law."

"He [Musharraf] is relaxed and confident at his residence in Chak Shahzad, sipping coffee and smoking cigars," Kasuri claimed. Party leaders also had a long briefing with Musharraf and exchanged views on his bail cancellation, the counsel said.

Such decisions, Kasuri said, could ignite fresh tussles among various state institutions like the army, judiciary and caretaker government.

"But we want justice no matter what Musharraf did in the past," he added.

Separately, the Islamabad High Court's cancellation of General (retd) Pervez Musharraf's bail application in the judges' detention case and arrest order was termed as "ill-conceived" by the All Pakistan Muslim League.

Senior APML leader Dr Muhammad Amjad said that the former president will continue to face the courts. "Musharraf is ready for jail, if the Supreme Court rejects his appeal," he said and explained that "if an arrest is necessary then authorities will declare Musharraf's farmhouse a sub-jail."

Amjad stated that Musharraf did not run away from the IHC, adding there were no police officials to arrest him and nobody tried to do so.

Interior, law and justice ministries remain silent

Meanwhile, the ministries of interior and law and justice were tight-lipped over the matter as it was still unclear if and when Musharraf could be arrested. Interior Secretary Sadiq-e-Akbar and caretaker Law Minister Ahmer Bilal did not comment on the issue despite holding several meetings to discuss legal and security related issues.

"Officials are perplexed as to what to do now and how to deal with Musharraf's arrest issue," said a senior official of the interior ministry.

He told The Express Tribune that Musharraf's security detail had been enhanced given the threats he was facing. A special squad of paramilitary forces will patrol his Chak Shahzad residence.

However, caretaker Information Minister Arif Nizami said that the government would obey the decisions of the court. "Court orders to arrest Musharraf will be followed, come what may," he said.


Published in The Express Tribune, April 19th, 2013.