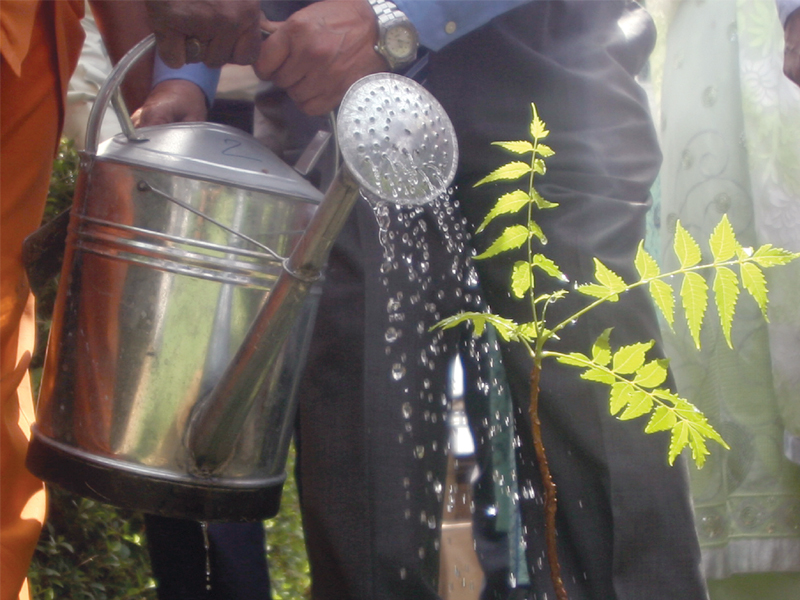 ---
KARACHI:



The students and faculty of Ziauddin University joined World Wide Fund-Pakistan (WWF-P) in making Karachi a greener city by planting five new Neem trees at the hospital on Thursday.




WWF-P and a healthcare company, PharmEvo, have launched a nationwide campaign to expand the green cover of the country before the International Earth Day, which falls on April 22. WWF-P, which began the drive on April 16 in Karachi at AO Clinic in Nazimabad, aims to plant a total of 15,000 trees in the city before the 43rd International Earth Day which falls on April 22. The drive kicked off in Lahore on April 12.

"Neem is a locally grown plant species and it is used in making seven medicines," said Maleeha, an assistant manager at WWF-P. She also mentioned that WWF-P had initially planned to plant 50,000 trees but the overwhelming response they received from various NGOs convinced them to expand the drive to 100,000 trees. A corporate relations manager at WWF-P, Asad Shahbaz Khan, pointed out that the organisation had already distributed 16,000 saplings to various organisations in Karachi.




A number of doctors from Ziauddin Hospital, including the hospital's dean, Dr Yousuf Sattar, were present at the occasion. "Planting trees is a way for us to give back to nature," said hospital's owner, Dr Ijaz Fatima, while applauding WWF-P's decision to launch the environment drive. "They also help prevent natural disasters." A general physician, Dr Kashif, pointed out that the drive would help raise awareness about Neem trees and their benefits.

A number of eminent organisations, including Pakistan International Airlines and the Civil Aviation Authority, are also supporting the campaign.

Published in The Express Tribune, April 19th, 2013.