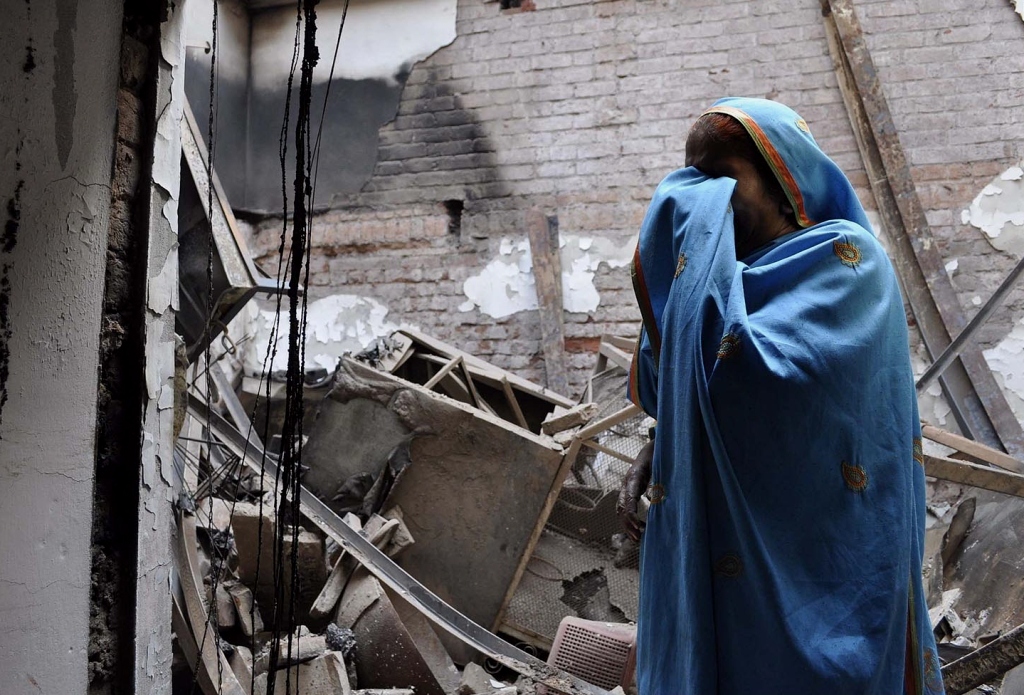 ---
LAHORE:

A drunken row between two friends set off the blasphemy allegations that eventually led to a mob attack on Joseph Colony and subsequent torching of more than 150 Christian homes in the neighbourhood, police and witnesses claimed on Sunday.


The victims of the assault, however, have blamed tradesmen for burning down their houses.

Sawan Masih was arrested on Friday after his Muslim friend Shahid Imran complained he had made blasphemous remarks about the Prophet Muhammad (pbuh).

Multan Khan, the suspended superintendent of police of Lahore city, said Masih and Imran had been friends for many years. "They used to sit together and drink together almost every evening. They were drunk on Wednesday when they had some arguments," Khan told reporters on Saturday. It was during the argument that Masih allegedly made the blasphemous remarks, Khan said.




Another local sanitary worker Altaf Masih said "while they were drunk they had an argument over discussion on religious issues."

Victims of the Joseph Town assault say that tradesmen in the area are real perpetrators of the incident.

The police, they said, failed to protect them from the mob of angry traders.

A victim told The Express Tribune, that the police asked Christian families to flee the colony on Friday and pledged to provide complete protection to their homes.

On Saturday, the number of policemen in the area remained slim, Riaz Masih said. Steel tradesmen, who were running an election campaign in the area, announced a strike that very day and placed pamphlets on the gates of their godowns and factories. This, Riaz said, irked the mob, which started chanting slogans against Christians.

"It gained momentum as more people of the locality joined in," Riaz said.

A rickshaw driver, Patras Masih, also held the tradesmen responsible for the assault.

He said various traders used to coax the residents into selling their land to them, so that they could construct their godowns.

"They might have taken this step to get the land evicted," Patras said.

Station House Officer (SHO) at Badami Bagh Police Station, Hafiz Abdul Majid apart from confirming that there was a personal clash between Sawan and Imran, accused tradesmen of assaulting Joseph Colony.

He said that even though the police assured the angry mob that they held Sawan under custody,  two traders – Usman Butt and Chaudhry Tariq – asked the police to hand over the alleged blasphemer to them.

Upon the police's refusal, the SHO said, the mob got even angrier and resorted to burning houses of the Christians.

Nothing left behind

70-year-old Gulzar Bibi, a resident of Joseph town for more than four decades, never imagined that one day all hell will break on her residence.

Accompanied by her grand children, Gulzar Bibi said: "they don't want to return to their burnt houses as they are petrified."

"I have nothing left to me apart from these clothes. Nothing is left behind in these charred houses for me," she added.

Riaz said that his sisters were to get married in the next few months.

"I had prepared all the dowry items. The fire gulped them too," a defeated Riaz said.

Arrests

Meanwhile, Badami Bagh police, on the complaint of Inspector Hafiz Abdul Majid, lodged FIR against 83 nominated accused and a thousands others responsible of burning Christians' houses. Those nominated include Tariq and Butt.

While addressing a press conference, Deputy Inspector General (Operations) Rai Tahir said that the police have arrested around 100 suspected miscreants in connection to the mob attack.

He said police teams have been raiding various places to make arrests, while they are taking help from video evidence to identify the accused.

Published in The Express Tribune, March 11th, 2013.