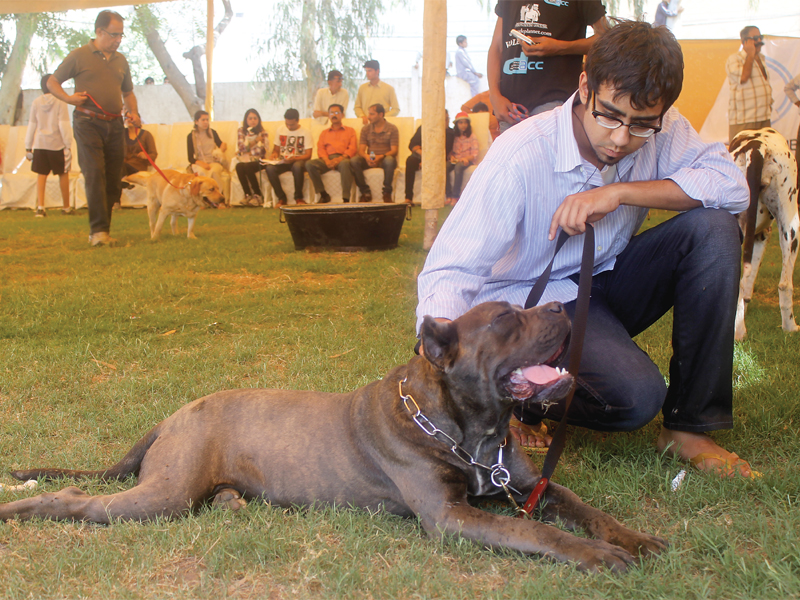 ---
KARACHI:



Squeaky yelps to angry growls, you could hear every variation of a canine bark as dog owners and enthusiasts gathered at the Karachi Kennel Club Ground for the 14th FCI International CACIB Dog Show on Sunday afternoon.




Dog owners of all ages - ranging from enthusiastic children, teenage girls, young men and families - proudly displayed over 35 different breeds of dogs. While some of the tiny ones such as poodles, Japanese Chins and Yorkshire terriers were tucked away in handbags and decorated with colorful accessories, the bigger ones such as Labradors, Bull- mastiffs and Great Danes had to be kept on a tight leash. Other breeds present at the event included Saint Bernanrd, Rottweilers, Pugs and German Shepherds.




Raza Burney had bought his 13-month-old German shepherd, Hugo, to the competition for the first time. He stated that while there weren't enough events in the country to showcase dogs, this was a good start.

"Such events are important because along with raising awareness about dogs amongst the public, they are also a great opportunity for the pets to socialise and learn how to behave in public," he said.

Cooky Rizwan, an ardent dog lover who had also brought her dogs to the show for the first time, agreed that it was a great opportunity to showcase the worth of their pets.




Some regulars like Mrs Kamal, who has been bringing her dogs to the show regularly since 1997, misses the foreign judges who used to participate in the event until five to six years ago, but eventually stopped coming due to the deteriorating law and order situation in the country. As she juggles with the leashes of her magnificent black and white Dalmatians, she expresses a desire to see more of such events in the city.

"The dogs will compete in over 22 different categories where they will be judged according to multiple criteria, such as their bite, teeth, tail, walk and overall grooming," explained Shan Saleem, a show committee member of the Karachi Kennel Club and owner of Rude Plannet Kennel. Saleem who was showcasing over 13 different breeds from his kennel at the show had high expectations from his dogs.




While the show began a couple of hours later than the scheduled time, the ground was soon packed with a few hundred canine enthusiasts. The audience watched from the stands as each owner escorted their dog into the ring and was examined by Colonel KM Roy - the judge for the event and President for Kennel Club of Pakistan. After announcing winners for each category, Roy also explained the purpose and origin of most breeds to the keen audience.




"This is not only a sport but events like these also educate people about what dog suits their environment better, its needs and how every dog can look good if groomed properly," elaborated Roy who has also served as an international judge in over 17 countries.


Published in The Express Tribune, February 25th, 2013.