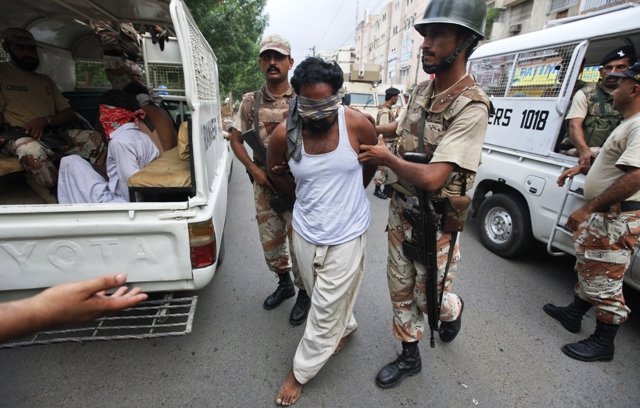 ---
KARACHI:


It would be hard to argue that the police can't answer this question: what are the political affiliations of the criminals arrested for 3,000 murders?

This question was one of the key ones the judges returned to again and again on Thursday while grilling the police on how far they had followed the Supreme Court's orders to clean up Karachi. After a bloody summer in 2011, the chief justice had started hearings on the city's violence.

A year has passed and the homicide rate has not been dented. An Awami National Party senator has taken the police chief and top administrators to court, arguing that they can be held in contempt for deliberately ignoring court orders.

On Thursday, Justices Jawwad S. Khawaja, Khilji Arif Hussain, Sarmad Jalal Osmany and Amir Hani Muslim heard the senator's contempt petition. They want the police chief, Fayyaz Leghari, to report the political affiliation of criminals and explain what action had been taken against the parties.

In the dock are top bureaucrat Chief Secretary Raja Muhammad Abbas, Additional Chief Secretary for Home Waseem Ahmed, who was once the chief of Karachi police, and Inspector General Leghari. The IG had given his comments through his private lawyer, Shah Khawar.

The advocate-general's attempt to rescue the police chief failed. He tried to say that the police had taken action but this had brought them in the line of fire. The force was attacked with bombs and policemen were killed.

Justice Amir Hani Muslim silenced him by saying, "Mr. AG unfortunately they do not even follow your advice." The judges declared that there had been a lot of verbiage but not one word had been uttered on what had been done against political groups. AG Malik had to concede.

"When you admit that the political parties are backing criminals morally and financially, what action did you take," asked Justice Khawaja. "This is a mockery.

If you do not want to comply with our directives, then we will pass orders and convict [those responsible]."

The IG reported that 22,700 accused were arrested and 16,000 illegal weapons were seized. Charge sheets in 100 out of 300 extortion cases had been submitted to the trial courts. The charge sheets in 50 out of 441 land-grabbing cases were in court too. But he failed to say how many were convicted and why others were not indicted.

The bench brought up the federal government's responsibilities to help improve Karachi. Deputy Attorney General Javed Farooqui could not give a proper answer and the bench took strong exception. "If the orders are not complied with, then the consequences will follow."

Justice Khawaja called it a mockery that the government did not even bother to reply to the court's queries. "The minister issued a warning on TV that something was going to happen in Karachi," remarked Justice Khilji while referring to Interior Minister Rehman Malik. "They do not answer in court, but answer on TV."

The judges wanted to know what progress was made on depoliticising the force. The IG's lawyer responded: "Not a single man in the police force has been found affiliated with any party." The judges came down hard on this statement as it directly contradicted what the IG had admitted in court earlier, that 40% of his officers had political affiliations.

For whatever it is worth, the IG told the judges he had written to parties, asking them to denounce their support for criminals, if they had any. "None of the parties, except the Sunni Tehrik, has replied," he explained, adding that many arrested men had disclosed links.

The bench ordered Leghari to submit a report on 3,000 murder cases, including each FIR, action taken and political affiliations.

The hearing continues today.


Published in The Express Tribune, February 8th, 2013.
COMMENTS (4)
Comments are moderated and generally will be posted if they are on-topic and not abusive.
For more information, please see our Comments FAQ