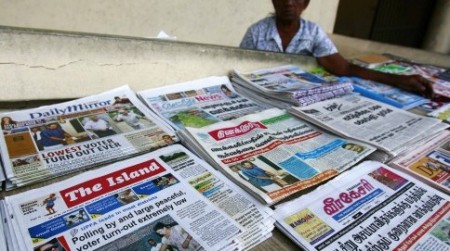 ---
COLOMBO: Sri Lanka's ruling party claimed victory today in parliamentary polls, as counting showed them well ahead after a ballot marked by record low turnout and reports of voter intimidation.

With more than a fifth of ballots counted, President Mahinda Rajapakse's United People's Freedom Alliance (UPFA) had secured 62.1 percent of the vote, with the main opposition United National Party a distant second with 27.32 percent.

"We have won the election," said Transport Minister and UPFA spokesman Dullas Alahaperuma, who predicted the collated results would give his party 138 to 142 seats in the 225-member parliament.

It was the first parliamentary poll since the government defeated Tamil Tiger rebels in May last year, ending a bloody three-decade conflict. The widely expected victory for the ruling party will further strengthen Rajapakse's grip on power just three months after he won a second term as president by an emphatic margin.

Rajapakse had been hoping for a two thirds majority that would allow him to amend the constitution, which currently limits presidents to two successive terms.

"I want a very strong parliament to develop the country," he told reporters as he cast his ballot Thursday in a southern constituency where his son Namal was the ruling party candidate.

For many Sri Lankans, it was the first legislative election in which they could vote without fear of Tamil Tiger violence and suicide attacks following the defeat of the rebels, which has boosted Rajapakse's standing. However, the Centre for Monitoring Election Violence (CMEV) reported 286 incidents of violence on polling day, including a shoot out between a group of opposition and government supporters in the south, but nobody was hurt. There were also numerous reports of pro-government supporters intimidating voters, said the centre's spokesman D.M. Dissanayake.

Overall turnout was expected to be between 50 and 55 percent of the country's 14 million voters, the lowest ever in a parliamentary poll, after a lacklustre election campaign. The previous low was 63 percent when Sinhalese militants and Tamil rebels attempted to sabotage the 1989 election by killing dozens of candidates, their supporters and election officials.

While Rajapakse's party should have no trouble securing more than half the 225 seats, Sri Lanka's system of proportional representation makes it unlikely it will secure the two-thirds majority needed to push through constitutional change.
COMMENTS
Comments are moderated and generally will be posted if they are on-topic and not abusive.
For more information, please see our Comments FAQ