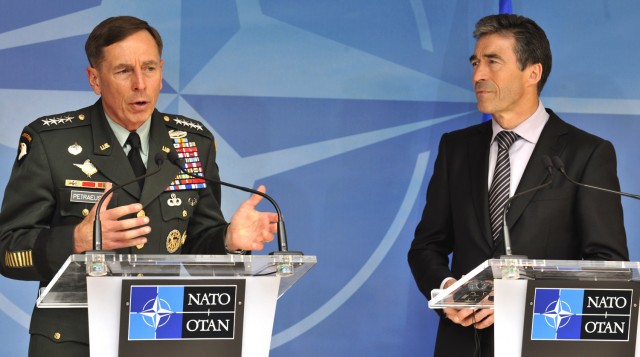 ---
US General David Petraeus, the new Afghan war commander, pledged on Thursday to give his forces the right firepower to fight the Taliban but insisted that sparing civilian lives remained a priority.

Petraeus was at Nato headquarters in Brussels to brief allies before taking up his post in Afghanistan, where a new bout of fighting left at least 31 Taliban insurgents dead in the southern province of Helmand.

The general admitted that troops were unhappy with the rules of engagement, which limit air strikes and artillery and mortar fire to prevent civilian casualties, but he denied that he planned to change them.

"There are concerns among the ranks of some of our troops on the ground that some of the processes have become a bit too bureaucratic," he told a news conference after meeting with Nato ambassadors.

"I have a moral imperative as a commander ... to bring all force that is available to bear when our troopers, and by the way our Afghan partners, are in a tough position," Petraeus said.

But the commander said there was "no intent to change" the rules, which are part of a troop surge strategy launched by the United States in a bid to beat back a resurgent Taliban insurgency.

"In a counter-insurgency the human terrain is the decisive terrain and therefore you must do everything humanly possible to protect the population and indeed again to reduce the loss of innocent civilian life," he said.

He said there had been a 50 per cent reduction in the loss of civilian lives in the last 12 weeks compared to the same period last year.

The rules were imposed by his predecessor, General Stanley McChrystal, who was fired by US President Barack Obama for disparaging remarks he made about administration officials in a magazine article.

Petraeus visited Brussels just one day after the US Senate unanimously confirmed him as the new war commander, with lawmakers hoping the man credited in Washington with turning the Iraq war around could do the same in Afghanistan.

Nato Secretary General Anders Fogh Rasmussen said the transatlantic supported Petraeus and the military strategy.

"The strategy has our full support," Rasmussen said at the news conference. "This has been a change of command but it's not a change of strategy."

He added: "General, you are the right man to carry our mission forward."

Petraeus, who was due to arrive in Kabul within days, takes over amid a tough fight that left more than 100 foreign troops dead in June, the deadliest month since the war began in the wake of the attacks of September 11, 2001 in the United States.

Nato forces in Afghanistan said on Thursday they had killed at least 31 Taliban fighters and captured a rebel chieftain after a raid on an insurgent hideout in Helmand.

In a new brazen attack on Wednesday, Taliban insurgents set off a car bomb and fired rockets at a major Nato base in eastern Afghanistan.

Nato says the dramatic upswing in casualty numbers in June has been caused by its stepping up military operations and taking the fight to the Taliban in areas where the Islamist militia has previously been unchallenged.

Europeans have grown weary of the war and their governments are beginning to plan how and when to withdraw their troops.

The Dutch have announced that they would begin withdrawing troops in August and Canada's 2,800 soldiers are scheduled to return home next year.

Nato allies hope Afghan forces can take over security for their own country in order to allow the international troops to withdraw from Afghanistan.

British Foreign Secretary William Hague said on Thursday he would be "very surprised" if Afghan forces had not taken control of their own security from international forces by 2014.

But he insisted Britain was not setting a timetable for withdrawing its 9,500 troops from Afghanistan, even after Prime Minister David Cameron said last week he wanted them home before the next election in 2015.

Published in The Express Tribune, July 2nd, 2010.
COMMENTS
Comments are moderated and generally will be posted if they are on-topic and not abusive.
For more information, please see our Comments FAQ