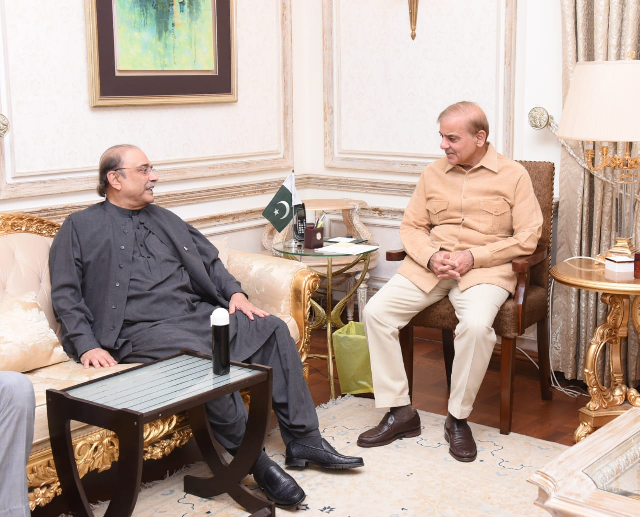 ---
KARACHI:
With the members of the PTI expected to step down from their positions in Sindh, the leadership of PPP and PML-N Sindh has announced that the two parties will work as an ally in all the by-elections and general elections in Sindh.
The PML-N leadership has assured its full support to the PPP in the contest of mayorship.
PPP provincial minister and Karachi Division President Saeed Ghani has also expressed his desire to work with Jamat e Islami (JI), saying it was the second leading party in the recent local bodies' elections in Karachi.
"We have already said that we want Jamaat-e-Islami to go along with us because we believe that just as the people of Karachi gave us a 'heavy mandate', they had also given a mandate to JI."
PPP has won 96 seats, JI 82 and PTI secured 43 seats thus far, he said, adding that "similarly the people of Karachi had given eight seats to PML-N and two to the JUI".
He expressed these views while talking to media after meeting the PML-N leaders at the residence of PML-N Sindh President Shah Mohammad Shah.
The PPP delegation was led by Ghani along with party's Sindh General Secretary Senator Waqar Mehdi and Najmi Alam. PML-N Sindh Additional Secretary Chaudhary M Tariq, Syed Nisar Shah, MNA Khel Das Kohistani, Hamesha Bhatija, Khalid Sheikh and others also attended the meeting.
Responding to a question, Ghani said the position of mayor was the one that every party sought, adding that morally, it was the right of the single largest party, which was the PPP.
He said all the parties had the right to talk to each other and that the JI was the "first priority" of the PPP to work with.
The huddle discussed the PPP and JI meeting, Karachi's situation after the municipal elections and other matters of importance.
Later, addressing a joint news conference, Shah Mohammad Shah said that both parties had the same position on other political issues including the development of the city.
"We will work together for the development of the city and province and whichever candidate we bring for the mayor of Karachi will be on merit. Hopefully the rest of the people will also support us."
Shah said PPP and PML-N would participate in the upcoming by-elections and general elections, hoping that Nawaz Sharif would return to the Pakistan soon.
He said Maryam Nawaz was expected to come back on January 28 or 29.
Responding to PTI's statement of declaring the PPP mandate in Sindh as fake, Ghani said, "Everyone knows about the general elections of 2018 [wherein PTI emerged victorious]".
Commenting on JI's reservations on the powers of mayor, he said the powers were mentioned in the law, adding that whoever takes charge would abide by rules and regulations.
COMMENTS
Comments are moderated and generally will be posted if they are on-topic and not abusive.
For more information, please see our Comments FAQ