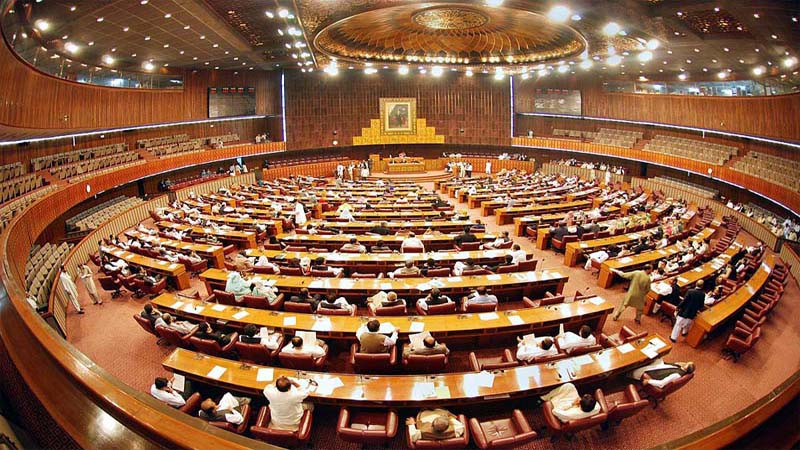 ---
ISLAMABAD:
National Assembly (NA) Speaker Raja Pervaiz Ashraf has formed a special committee for the creation of a new province and the necessary constitutional amendments.
South Punjab is the proposed new province, comprising the areas which has a majority of Saraikis in the southern part of Punjab province. Made up of Bahawalpur, Multan and Dera Ghazi Khan divisions, the proposed Saraikistan forms about 52 per cent of the total area and 32 per cent of the population of Punjab province.
Federal ministers Syed Khursheed Shah, Murtaza Javed Abbasi, Khalid Hussain Magsi and Naveed Aamir Jeeva are among the members of the committee.
Defecting Pakistan Tehreek-e-Insaf (PTI) lawmakers Ramesh Kumar, Nuzhat Pathan and MNA Sabir Hussain have also been included in the committee.
The committee will review the amendment bill in articles 25B, 51, 63B, 92 and 106 of the Constitution of Pakistan, and the ToRs.
The committee will submit a report within 30 days on the matter.
In 2012, the Punjab Assembly and the National Assembly passed resolutions for the creation of a new province in Punjab. These resolutions were supported by the Pakistan Peoples Party (PPP) and the Pakistan Muslim League-Nawaz and were passed.
In 2013 election, the PPP tried to mobilise the Saraiki voters over the Saraikistan province creation. But they got only one National Assembly seat from the Saraikistan region.
In 2018, the PTI promised to create a new province in South Punjab within the first 100 days of taking office, if they win. The PTI won the election and bagged 30 out of 50 seats of the National Assembly seats in South Punjab.
On August 15, 2018, the PTI MPA of Punjab Assembly, Mohsin Leghari, tabled a resolution for the creation of a new province in South Punjab.
On Jan 18, 2022, the Senate accepted the bill seeking creation of South Punjab province, which was supported by the PTI and the PPP.
COMMENTS
Comments are moderated and generally will be posted if they are on-topic and not abusive.
For more information, please see our Comments FAQ