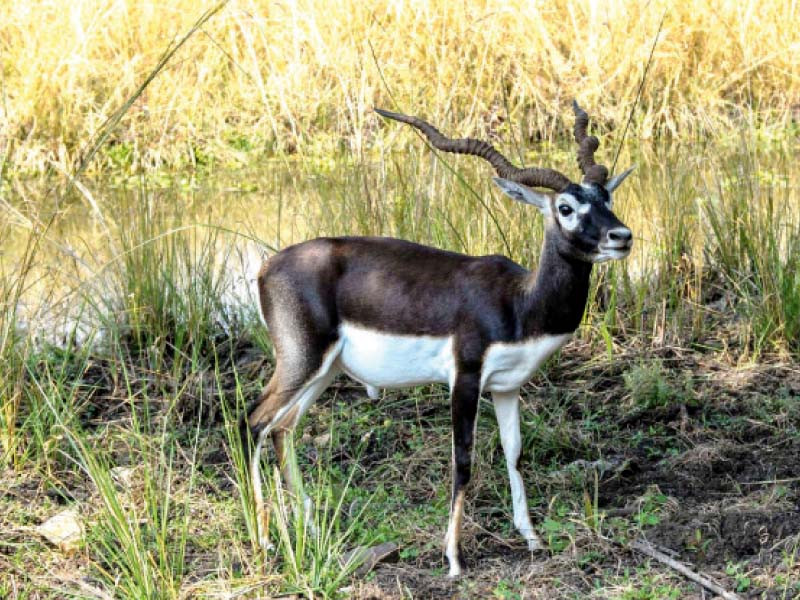 ---
KARACHI:
A lower court in Mithi, Sindh on Tuesday handed two men a one-year jail term and a fine of Rs2.2 million for attempted smuggling of four fawns.
During a raid on November 3, the Sindh Wildlife Department (SWD) found four fawns from two men - Abdullah Samejo and Maqbool Rahimoon. They were arrested and sent to a local police station and booked under charges of smuggling wild animals.
"The fawns were caught in the wild and were being transported to Karachi," SWD's Deputy Director for Mirpurkhas region Mir Aijaz Talpur told The Express Tribune that the animals were just a few days old.
Talpur said that his team tried to save the lives of fawns, but "unfortunately they did not survive."
The fawns were caught most probably from Daheli, a taluka of Tharparkar district.

Also read: Man 'kills' wife, three daughters with knife in Karachi's Malir

The Additional Sessions Judge I Mithi, on Tuesday, awarded a one-year sentence and a fine of Rs2.2 million to both the accused.
"Not a single man has ever received such a sentence before," Talpur said. "It is the first time in Pakistan that wildlife smugglers have been sentenced and heavily fined," he added.
Speaking to The Express Tribune, SWD's Provincial Conservator Javed Ahmed Mahar said: "It is all because of the new law passed recently by the Sindh Assembly."
In July 2020, the provincial assembly passed the Sindh Wildlife Protection, Preservation, Conservation and Management Bill 2020, which aims to enhance protection of wildlife in the province. It replaced a weaker law, hardly providing any protection to wild animals, for the first time since 1972.
"The new law is strict for wildlife smugglers," Mahar said. "It is the first time that smugglers and whoever harms wildlife is being punished."
Also read: Sindh polio-free for last 30 months, says Murad
Last month, five offenders paid SWD Rs2.3 million for illegally hunting seven Chinkara deer in the same district.
The officials said that as per the law hunting deer is banned across Sindh. The offenders, Ali Ahmed, Salam Bari, Abdul Ghani, Mohammad Saleem and Mohammad Hasan, were caught red-handed by villagers in Ranglio in July.
During the trial at a court in Mithi, the offenders plead guilty to the crime and submitted to pay the compounding amount under Section 27 of the new law.
COMMENTS
Comments are moderated and generally will be posted if they are on-topic and not abusive.
For more information, please see our Comments FAQ