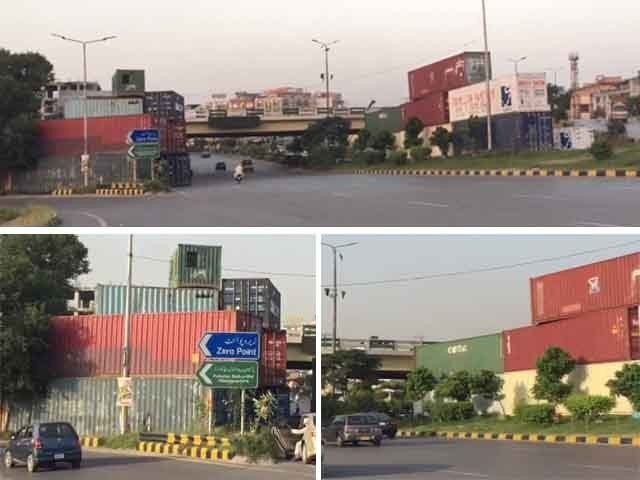 ---
ISLAMABAD:
The Pakistan Tehreek-e-Insaf (PTI) on Friday was granted permission to hold its sit-in at Faizabad for the party's Haqeeqi Azadi march scheduled to be held tomorrow.
According to Express News, the Rawalpindi administration issued a 56-point permit for the PTI to hold a sit-in near Faizabad.
The notification furthered that the British cricket team would soon arrive in Rawalpindi, therefore the venue should be completely vacated after the rally was over.
In the notification, orders were issued to the Rawalpindi police to take all necessary security measures for the rally.
Read Imran refutes govt claims on D-Chowk protest
It clarified that PTI Chairperson Imran Khan could only use the route decided by the PTI, Islamabad administration and security agencies. Moreover, Imran was barred from using a car with a sunroof before and after the rally.
The permit directed that Allama Iqbal Park could not be used for workers' stay and should be completely vacated after the procession. Full implementation of the traffic plan by the traffic police was emphasised.
Anti-state sloganeering and the use of drone cameras were prohibited during rallies and sit-ins.
The notification stated that the administration of the rally would be held responsible in case of any untoward incident or loss of life. It maintained that legal action would be taken for violating the terms and conditions.
The Islamabad administration sent copies of the permit to all concerned institutions.
Faizabad flyover sealed
Due to the PTI rally and sit-in, the Faizabad flyover, which connects the capital and Rawalpindi, has been completely sealed from all four sides. This caused severe problems for citizens travelling to Islamabad through the flyover.
Blocked roads created long queues and vehicles were stuck in traffic jams. The closure of the main highways of Rawalpindi led to severe traffic jams on Rawalpindi Double Road, IJP Road and Rawalpindi-Murree Road. Ambulances were also reported stuck in the rush.
According to the traffic police, a diversion has been set up at Faizabad for those travelling from Islamabad to Rawalpindi via Murree Road, while the old airport road and stadium road can be used to enter Islamabad from Rawalpindi.
Read More Imran attack JIT finds no proof of another attacker
Express Chowk and Nadra Chowk remained closed for entry into the Red Zone. However, alternate routes of Margalla Road, Ayub Chowk and Serena Chowk could be used.
Police claimed that PTI workers blocked the road by placing a container to prepare for the rally, due to which the road from Faizabad to Islamabad was blocked.
The police have issued guidelines that citizens should take alternate routes and call 15 in the case of an emergency.
COMMENTS
Comments are moderated and generally will be posted if they are on-topic and not abusive.
For more information, please see our Comments FAQ