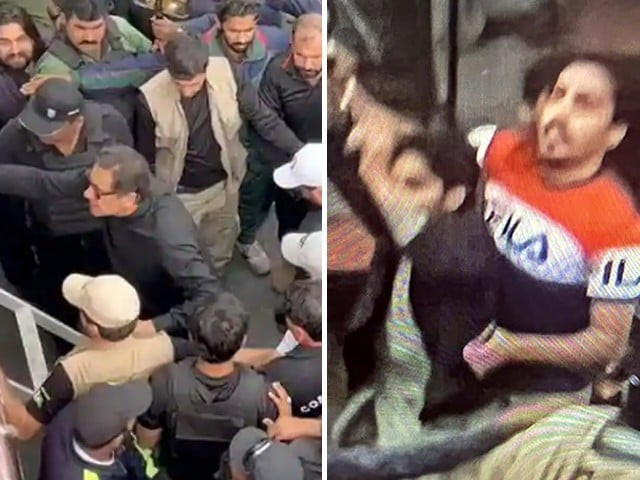 ---
GUJRANWALA:
Contrary to PTI chairman and deposed premier Imran Khan's claim, the joint investigation team (JIT) probing into the firing at the party's "Haqeeqi Azadi March" in Punjab's Wazirabad on November 3 found no evidence of a second attacker.
According to police sources, the JIT visited the site of the attack thrice in Wazirabad. It questioned and recorded statements of more than 800 police personnel during its investigation.
It took written statements from 90 police personnel and over 700 were questioned orally. The sources said the statements of Gujrat district police officer, Wazirabad deputy superintendent of police and Wazirabad City SHO were also recorded.
The police personnel from whom statements were taken were deployed on the sides and roof of the container. None of the over 800 witnesses confirmed the presence of another assailant.
The police sources said after the attack, the PTI chairman had claimed that there were two shooters. During the investigation, concrete evidence of firing by a guard standing on the container was also found.
To identify him, the weapons of all the guards on the container would be forensically tested. After identification, the guard would also be interrogated in the case.
Imran, 70, was wounded by a gunfire aimed at his open-top container truck as he led a political party convoy through thick crowds in Wazirabad on November 3.
One person died in the incident while several members of the PTI chairman's close circle, including Senator Faisal Javed, former Sindh governor Imran Ismail, Ahmad Chattha and Imran Yousaf, were injured.
Read Imran's right of defence struck out in defamation case
A suspect identified as Naveed was arrested from the crime scene. The suspect admitted to opening fire on the container but did not point out to anyone during the initial investigation.
He remained firm that he acted alone and claimed that a few speeches of Imran hurt his religious sentiments.
He also told the earlier investigators that he used to hear the speeches of a few religious scholars. The clips of Dr Israr Ahmad, Late Maulana Khadim Rizvi and his son Hafiz Saad Rizvi were also recovered from his mobile phone.
Naveed told the previous investigators that he was frustrated because Imran was allegedly misleading the nation and had also uttered "blasphemous and anti-religious words".
The sources said the JIT interrogators had changed their questions each time they grilled him, but he remained firm.
They added that Sajid and Waqas, the men who had provided the weapon to the attacker, were also interrogated.
The federal government had been adamant that the attacker acted alone but the PTI leadership including Imran said Naveed was only a pawn who executed the assassination plot hatched by three powerful personalities of the country.
COMMENTS
Comments are moderated and generally will be posted if they are on-topic and not abusive.
For more information, please see our Comments FAQ