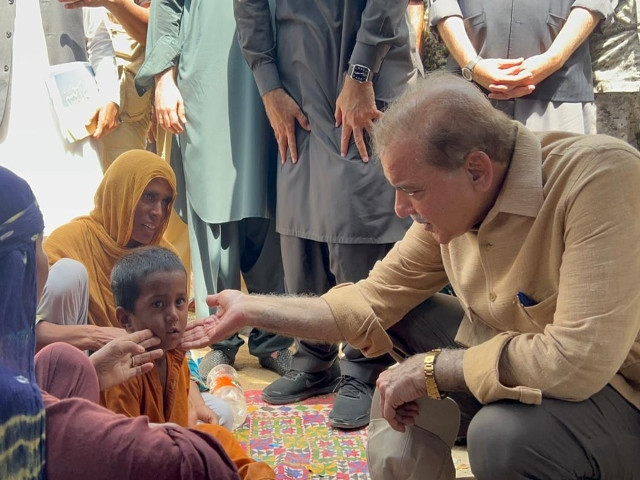 ---
ISLAMABAD:
Prime Minister Shehbaz Sharif on Saturday issued special instructions with regard to ensure uninterrupted supply of edible and relief items to the flood victims.
He was chairing a meeting to review relief and rehabilitation activities for people in the flood-affected areas.
The prime minister instructed to extend special cooperation to the provincial governments for supply of the edible and relief items so that the problems faced during the relief activities could be resolved.
While taking notice of the rising prices of food items in the aftermath of floods, Shehbaz directed for immediate resolution of problems in determining the prices of food items.
He asked the authorities concerned to complete as early as possible the assessment of losses caused by devastation of floods.
The government has decided to take an additional amount of $600 million from the United Nations (UN) for rehabilitation and recovery from devastating floods.
In this regard, the ministry of economic affairs will request the UN for the monetary aid through launching of a humanitarian appeal and assistance for flood relief support.
The money will be used for providing immediate relief to millions of flood victims across the country including food, shelter, medical facilities in flood affected areas.
The final report on the flood will also be submitted to the United Nations by October 15, sources said.
The UN will be informed about water-borne diseases in the affected areas.
Meanwhile, It is pertinent to note that the UN has already provided $160m through flash appeal on August 30, but the grant was not considered enough in the face of the unprecedented devastation.
After receiving additional $600 million from the United Nations, the aid amount will reach $760 million in total.
According to one data, the number of damaged and destroyed houses has exceeded 2m as of Sept 23.
More than 5,000 schools are currently being used to host displaced populations, while an estimated 23,900 schools have been damaged.
The United Nations has said that the number of people in need of help in flood-hit areas is much higher than what has been reported.
The revised 'Pakistan Floods Response Plan 2022' will be launched in Geneva on Tuesday. The assessment, ranging from $600m to $800m, will focus on life-saving support for immediate and urgent needs.
With additional input from APP
COMMENTS
Comments are moderated and generally will be posted if they are on-topic and not abusive.
For more information, please see our Comments FAQ