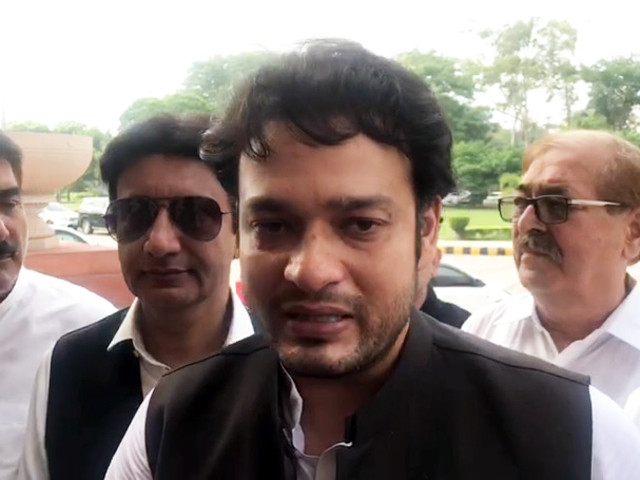 ---
LAHORE:
PTI candidate Wasiq Qayyum Abbasi was declared Punjab Assembly deputy speaker unopposed after no one from the opposition side submitted nomination papers.
Earlier, the newly elected Punjab Assembly Speaker Sibtain Khan had announced elections be held on the said slot on July 31 (today) at 1pm at the Punjab Assembly, sharing the schedule that the nomination papers would be submitted on July 30 till 5pm to the assembly secretariat.
On Saturday, however, PTI's Wasiq submitted his nomination papers in time while from the PML-N, MPA Pir Akhtar Rasool, obtained the nomination papers. Later, it transpired that perhaps PPP's Ali Haider Gillani would submit his nomination papers for the deputy speaker's slot.
As the deadline expired, the Punjab Assembly secretariat confirmed that no nomination papers were submitted by the opposition.
Also read: PML-N moves LHC against 'unconstitutional' election of PA Speaker
Wasiq said, "We waited for the opposition till 5:30pm (half past the deadline) at the assembly secretariat but no one appeared to submit the nomination papers."
He claimed that the opposition was fully aware about its defeat which was why no nomination papers were submitted to avoid further embarrassment in the public.
He said PTI chief Imran Khan's version succeeded and the "people of the country are with Imran Khan".
He said no doubt he had been declared deputy speaker unopposed but constitutionally the assembly speaker would make the announcement in the assembly session (on Sunday).
On the other hand, PML-N MPA Khalil Tahir Sandhu said that it was not the first time they had faced such circumstances. "We have been facing such situations since 2013."
He said they were awaiting justice from the courts, adding that they challenged the contest for the speaker's slot in the Lahore High Court, which according to them, was conducted illegally compromising the secrecy of votes.
Earlier, opposition candidate Ali Gillani said it was unfair that their nomination papers were not submitted, accusing the PTI of "match-fixing".
Also read: Sibtain Khan takes oath as Punjab Assembly speaker
Later, Gillani changed his stance, saying that why they would go to contest the election when the PTI had committed illegality in holding the speaker's contest on July 29 which had already been challenged in the LHC.
The Punjab Assembly speaker had adjourned the house proceedings till July 31 (Sunday) to hold deputy speaker's election after the treasury lawmakers passed a no-trust motion against former deputy speaker Sardar Dost Muhammad Mazari removing him from the position.
That day, the house also elected PTI's Sibtain Khan as the new assembly speaker after he secured 185 votes. His rival PML-N's Saiful Malook Khokhar obtained 175 votes – three short of the opposition's total strength of 178 in the provincial legislature.

COMMENTS
Comments are moderated and generally will be posted if they are on-topic and not abusive.
For more information, please see our Comments FAQ