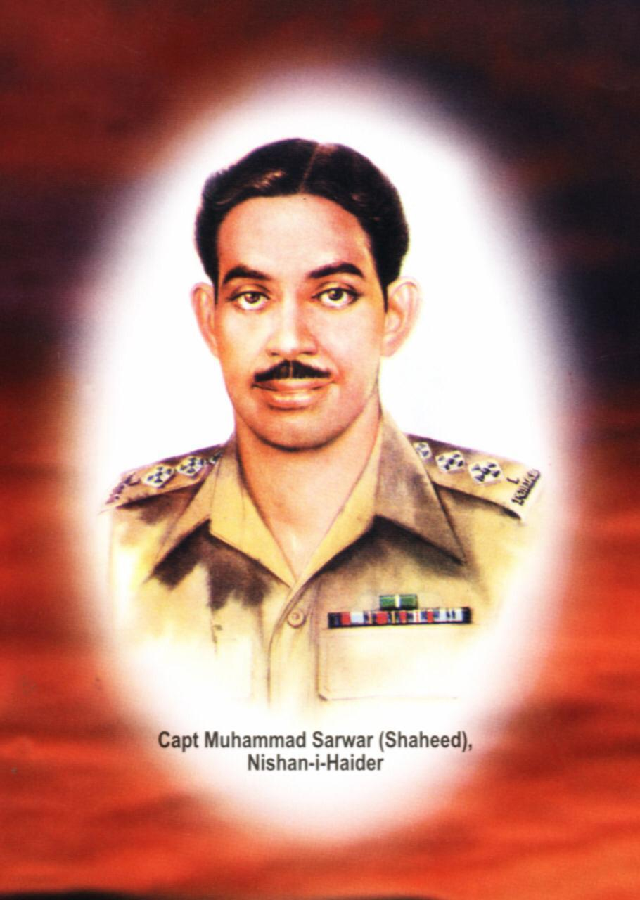 ---
LAHORE:
Soon after Pakistan was carved out of India at birth, the infant nation woke up to its first war in Kashmir, its 'jugular vein'. Men in uniform picked up their battered rucksacks and walked right into hell and shed their blood like water to snuff out the blaze.
Captain Raja Muhammad Sarwar, the country's first recipient of Nishan-i-Haider, the highest military honour, is one of them and holds a distinction in the great honourable list of those who never lived to wear the medal on their chests.
A grateful nation will commemorate his 74th martyrdom anniversary today (Wednesday).
Sarwar was born in Singhori village in Gujar Khan Tehsil on November 10, 1910. His father, Raja Muhammad Hayat Khan, served in the British army as a constable.
He joined the army as a sepoy in April 1929 and served in the Baloch regiment till 1941. Later, he was commissioned in the Punjab Regiment in 1944, after which he participated in World War II and was promoted to the rank of captain in 1946 for his outstanding service.
In 1948, he was serving as a company commander in the second battalion of the Punjab Regiment when he was assigned to an operation in Kashmir.
His comrades later reminisced that Sarwar was yearning to lead the war on the frontline and began mounting his efforts to join the frontline troops when the war broke out. Confident of his abilities, he pleaded with the commanding officer to send him on the mission.
However, the situation worsened and the commanding officer finally relented deciding to entrust Sarwar with a whole team of soldiers to go and destroy the enemy's post. He was given the rank of company commander of the second battalion of the Punjab Regiment. Under his leadership, the regiment was able to force the Indian troops to retreat out of battle regions of Gilgit-Baltistan.
However, his battalion faced heavy resistance from the opponents present in the Uri sector as the soldiers pushed forward to take over a well-guarded enemy position.
In spite of strong backlashes and enemy grabbing security fronts with barbed wire, Capt Sarwar kept on firing with cold courage as he bled from his injuries. Finally, along with six of his comrades, he crossed the barbed wire and launched the final attack, crying "Allahu Akbar" (God is great).
As he along with his battalion continued moving forward, the intensity of gunfire, grenade attacks, and mortar fire increased. He embraced martyrdom on July 27, 1948, after receiving multiple shots on his chest as he attempted to cut a barbed-wire barrier while making an effort to progress further into enemy lines.
The morning's sun saw the green crescent flag of Pakistan fluttering on this hill.
In recognition of his exceptional acts of gallantry, Sarwar was awarded the honour on March 23, 1956, an honour his widow received at the hands of the President of Pakistan, Muhammad Ayub Khan.
The body of Capt. Sarwar is buried at the Hill of Tilpatra which is near Uri in Indian-occupied Kashmir where he was buried on July 27, 1948.
General Ayub Khan eulogised the martyr in his address: "I feel proud to mention the sacrifice of Captain Mohammad Sarwar Shaheed, who has added a new chapter in the history of Pakistan by being the first to receive the Nishan-e-Haider. By giving a great sacrifice, he made the name of himself, his army and his Unit alive forever. Indeed, we all are proud of his sacrifice. Let us all pledge to remember this golden feat forever and will keep it fresh."
COMMENTS
Comments are moderated and generally will be posted if they are on-topic and not abusive.
For more information, please see our Comments FAQ