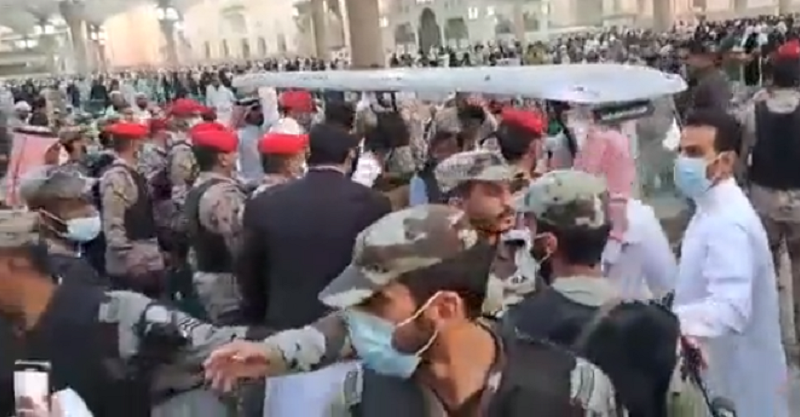 ---
A Saudi court has sentenced a Pakistani to three years in prison for chanting slogans against Prime Minister Shehbaz Sharif and his entourage, in Madina, during their maiden visit to Saudi Arabia late April this year.
Muhammad Tahir has also been fined 10,000 riyals.
Tahir, among other pilgrims, was accused of misbehaving with the Pakistani delegation and chanting slogans at the Masjid during the premier's visit. Later, he uploaded videos of the incident on social media.
The convict can file an appeal within 30 days against the court's order.
Read Politicians, others condemn 'shameful' incident at Masjid-e-Nabwi
According to videos on social media, the pilgrims raised slogans of "chor" (thieves) as soon as they saw PM Shehbaz.
In another video, the pilgrims were seen heckling and chanting abusive slogans against federal ministers Marriyum Aurangzeb and Shahzain Bugti, as the pair were escorted by Saudi guards. In another video, a pilgrim pulled Bugti's hair from behind.
Later, in a video message in response to the chants, Marriyum had said that the act was perpetrated by a "select group", while most Pakistanis respected the sanctity of the holy mosque.
COMMENTS
Comments are moderated and generally will be posted if they are on-topic and not abusive.
For more information, please see our Comments FAQ