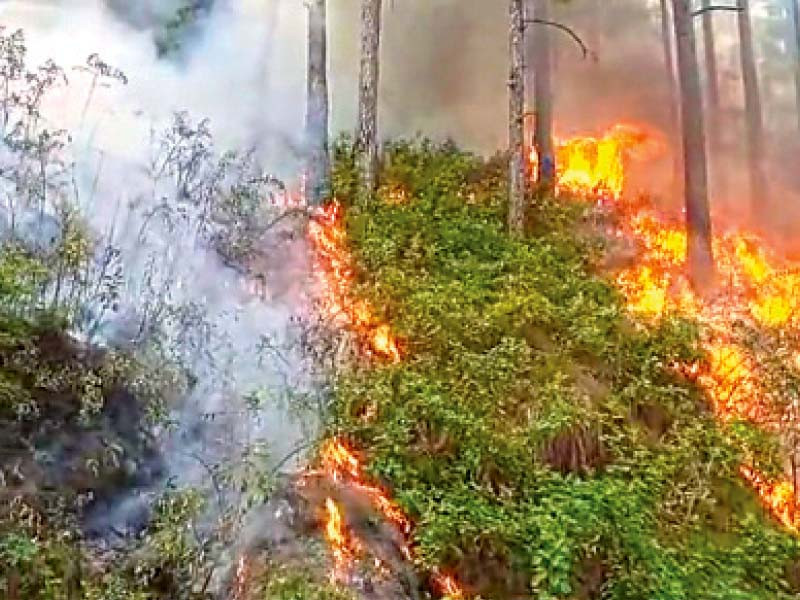 ---
RAWALPINDI:
A fire that broke out in a forest spread over a large area near Panan village of Kotli Satyan engulfing the forest for up to six-kilometre.
The fire reduced hundreds of valuable trees in the hilly areas to ashes. According to officials, a large number of birds were also burnt to ashes.
Due to the intensity of the fire and lack of resources, rescue workers faced severe difficulties in controlling the fire. The forests of Kotli Satyan and Kahuta have caught fire 10 times in the last one month. Wildlife was also forced to relocate. According to Rescue 1122, the forest fire started due to unknown reasons.
The fire spread over a large area due to the dry grass and strong winds. Firefighters struggled to contain the blaze, however, the fire could not be brought under control despite the firefighting which lasted for more than 12 hours due to the high intensity of the fire and lack of resources.
A spokesman for 1122 said that four fire tenders and more than 10 firefighters took part to control the forest fire. Firefighters faced extreme difficulty to extinguish the fire that have spread on difficult roads, narrow passages and ditches. Families living near the forest area were instructed to remain cautious. Announcements were made on loudspeakers asking people to keep in touch with firefighters in case the fire spread toward houses.
The spokesman said that the wildlife was severely damaged due to the fire. Birds that come to the Kotli Satyan forests from other regions every year have also left the area. Local birds, parrots and wild animals have also moved away from the area. Along with Rescue 1122, members of the local administration and forest department also took part in firefighting. The spokesman said the fire destroyed hundreds of pine, babool and palm trees. Tall and huge trees were badly affected by the fire. The damage assessment process will begin once the fire is under control, forest officials said. Rescue officials said that no apparent cause of the fire could be ascertained. Extreme heat increases the risk of forest fires in the highlands. Most fires are caused by human negligence. However, sparking of high voltage power lines passing through forests can also cause the fire.
Earlier on April 14, the fire broke out in the dense forest of Baga village of Union Council Lahtara as the forest department failed to put in place arrangements to protect the forests despite being a fire season. The fire had reduced the lush forest to ashes.
The Rawalpindi forest department had declared fire season from April 5 instead of April 15 due to the premature onset of drought, however, the arrangements proved futile. Seventy per cent of the dense forest spread over an area of five-kilometre in Lahtarar Baga was burnt to ashes.
Published in The Express Tribune, May 14th, 2022.
COMMENTS
Comments are moderated and generally will be posted if they are on-topic and not abusive.
For more information, please see our Comments FAQ