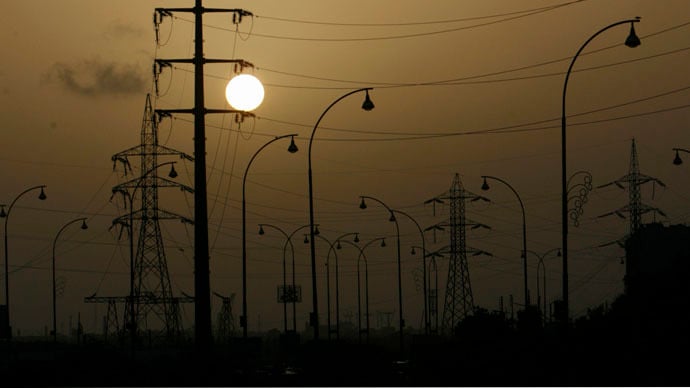 ---
ISLAMABAD:
The electricity shortfall in Pakistan has been recorded at 6,000 megawatts (MW) as the country is producing 15,500MW against 21,500MW demand.
According to sources in the Ministry of Energy, hydel power plants were generating 1,000MW, governmental thermal power plants 2,500MW, and private sector power plants 12,000MW, while the total power generation capacity was 33,000MW.
They said that the system was incurring a loss of Rs10 billion on a daily basis due to low production, while power outages of 10 hours per day were being reported across the country. They added that some power plants were receiving capacity payments even after the shutdown.
The breakdown of the issue also came to light. According to an official document, Nandi Power Plant, with a capacity of producing 525MW, was closed since December 13, 2021, while Jamshoro Power Plant since April 9, 2022, 840MW Muzzafargarh Power Plant since April 8, 2022, 621MW Port Qasim Power Plant since March 31, 2022, 447MW Guddu Power Plant since February 12, 2021, 245MW Muzzafargarh Power Plant since July 1, 2021, 620MW Thar Coal Power Plant since March 11, 2022, and Sahiwal Coal Power Plant, with a capacity of producing 621MW, was closed since March 20, 2022.
Read Energy-efficient products may end power crisis
Some of these power plants were shut down due to lack of fuel while others were closed for technical reasons.
Moreover, a meeting was held at the National Electric Power Regulatory Authority headquarters to discuss the ongoing load shedding in the country. It was attended by CPPA-G and NPCC officials among others.
The heads of power plants informed the meeting that they had to cease operations due to unavailability of oil or technical glitches.
The authority expressed serious concerns at the shutdown of power plants, asking why they were closed when the country was in dire need of a power supply.
The heads of power plants lodged complaints against CPPA-G over non-availability of funds, saying that they did not have the money to buy oil or repair the plants. They added that the problems could be overcome if the CPPA-G gave them money on time.
Nepra directed the CPPA-G to formulate an action plan for the disbursement of funds to power plants as soon as possible. It also directed the NPCC to review its planning according to the severity of the weather.
The authority also formed a committee comprising itself, NPCC and the private sector to assist in better planning on a daily basis.
Nepra directed that Guddu Power Plant should be run on open cycle immediately and 260MW should be added to the national grid so that consumers could get some relief from load shedding.
COMMENTS
Comments are moderated and generally will be posted if they are on-topic and not abusive.
For more information, please see our Comments FAQ