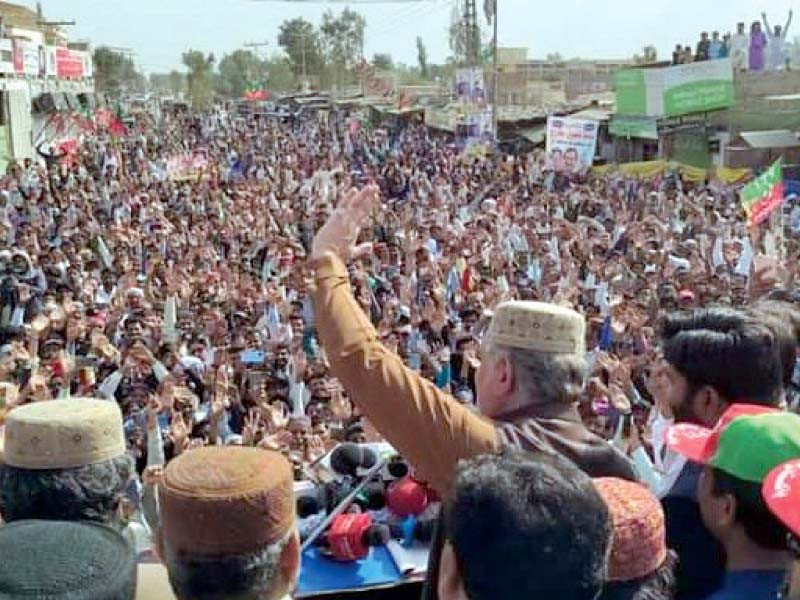 ---
NAWABSHAH:
Pakistan Peoples Party leadership fell into the lap of Bilawal Bhutto Zardari as inheritance otherwise the child star has made all the immature political moves which go against him, said Pakistan Tehreek-e-Insaf (PTI) Vice Chairman and Foreign Minister Shah Mehmood Qureshi on Wednesday.
Bilawal made no political struggle to become a leader he just inherited the party and "his childish speeches are going in our favour," Qureshi said addressing a press conference at Sakrand area of district Shaheed Benazirabad.
Bilawal is politically immature and his political training will take time, said Qureshi, a spiritual personality of Multan who has a huge following in Sindh.
Regarding the no-confidence vote against the premier, he said that balloon of opposition was inflated … all the allies are with us and the Chaudhary brothers have openly posed their confidence in PM Imran Khan.
Speaking about the role of PPP, Qureshi said that it has widened the gap between Sindhi and Urdu speaking community and has destroyed Karachi.
Regarding local government law promulgated by PPP, Foreign Minister said that all political parties have registered their protest on this law and MQM have always extended its support at every stage.
He said that the opposition is demanding an assembly session, and we are ready to let them present no confidence move. Qureshi said that during visits to Larkana, Khairpur, Nawabshah and other towns and cities we witnessed the status of PPP.
He said that the people of Sindh are facing a bad political and economic situation and have fallen victim to unemployment.
He said that people of Sindh tried PPP's rule for the last fifteen years, you have no vote bank in Punjab, KP and Balochistan and the public is now well aware of the facts that it has received in the last fifteen years.
He said that 1,131 students have crossed the border from Ukraine and more than 3,000 students are still stranded there. Qureshi said that Ukraine borders with three countries and "I have talked to the Ukrainian Foreign Minister on the issue of our student."
Published in The Express Tribune, March 3rd, 2022.
COMMENTS
Comments are moderated and generally will be posted if they are on-topic and not abusive.
For more information, please see our Comments FAQ