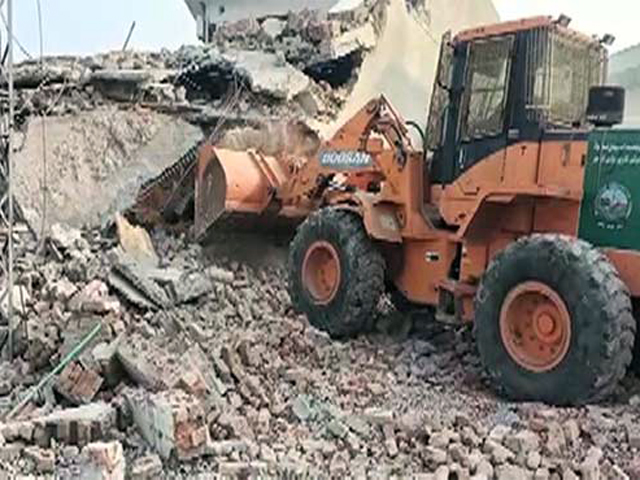 ---
ISLAMABAD:
Islamabad Deputy Commissioner Hamza Shafqat told a Senate standing committee on Monday that the government has not been able to take back the possession of 28,000 acres of land, which was under illegal and adverse occupation, despite its retrieval.
"The 28,000 acres of land has been retrieved/acquired but due to various reasons, the government has not been able to take over its possession. Members of the National Assembly are carrying out developmental works from the SDGs' funds on these lands," the Islamabad deputy commissioner told a meeting of the Senate Standing Committee on Housing and Construction held under the chair of Senator Haji Hidayatullah Khan. The committee discussed the issue of development work and provision of facilities to illegal occupants in Sector G-14/1 Islamabad.
Senator Saifullah Abro raised the question in the meeting that "who is carrying out development works in G-14/1. "If this illegal development work continues with the current pace, it will be difficult for the government to get back possession of these lands," he said.
On this, Islamabad DC Hamza Shafqat replied that local MNAs were carrying out development work with the funds of SDGs in the particular sector. "We have repeatedly asked the local MNAs not to carry out work there, but they say that it is important to give road access to the locals for the ambulance service," he told the committee. These development works were being carried out by the local government department, the Islamabad deputy commissioner said.
Senator Saifullah Abro said that the committee should be provided with the details of these developmental works along with details of funds used in the said sector so far. "Who is involved in it. How can an MNA use his own authority for such works,? he added
Senator Afnanullah Khan said that the illegal occupation by people on the state land in Sector F-11 could not be sorted out to date. It must a political decision of the PTI to get votes from the said sector, he added.
The Senate committee formed a sub-committee headed by Senator Saifullah Abro to look into the matter of development work and provision of facilities to illegal occupants in Sector G-14.
The housing secretary told the meeting that at present, 33,000 employees were on the waiting list for houses. He said that in the last three years, more than 2,800 houses have been vacated from illegal occupants. These houses were allotted to those who were on hold under the general waiting list.
The National Construction Company official told the committee that it has completed 250 projects so far. He said that at present, the NCL was carrying out work on seven projects worth over Rs1.82 billion. The official said that the NCL was currently facing a deficit of Rs40 million.
Published in The Express Tribune, January 11th, 2022.
COMMENTS
Comments are moderated and generally will be posted if they are on-topic and not abusive.
For more information, please see our Comments FAQ