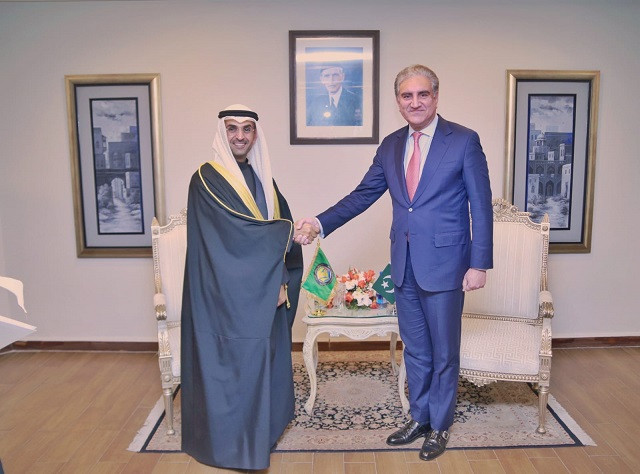 ---
Foreign Minister Shah Mahmood Qureshi on Saturday held a meeting with the Secretary General of the Gulf Cooperation Council (GCC) on the sidelines of the Extraordinary Session of OIC Council of Foreign Ministers in Islamabad, and reiterated Pakistan's commitment to peace and stability in Afghanistan.
"Foreign Minister Shah Mahmood Qureshi received His Excellency Nayef bin Falah Al-Hajraf, Secretary General of the Gulf Cooperation Council today," the Foreign Office said in a statement.
It further said that the minister reaffirmed Islamabad's intent for the continued well-being of the Afghan people.
During the meeting, the communiqué added, issues of mutual interests including the current situation in Afghanistan came under discussion.
Qureshi underlined the session would provide an opportunity to consider practical and concrete steps to help address the humanitarian needs of the Afghan people.
Also read: OIC summit an expression of solidarity with Afghan people: PM
"On Pakistan-GCC relations, the Foreign Minister and the Secretary General expressed their desire to further strengthen cooperation to forge a comprehensive partnership, with renewed focus on promotion of bilateral trade and business relations," the FO said. "They agreed to cooperate closely to conclude Pakistan-GCC Free Trade Agreement at the earliest," it added.
"Pakistan and GCC have long-standing fraternal relations, which are rooted firmly in common religion, shared values and culture."
This is GCC Secretary General Nayef's maiden visit to Pakistan since he assumed office in February 2020.
Qureshi meets Malaysian counterpart
Meanwhile, FM Qureshi also met his Malaysian counter, Dato Sri Saifuddin Abdullah. According to FO, the ministers expressed satisfaction on the excellent bilateral relations and close cooperation between the two countries at the regional and multilateral fora.
"Foreign Minister Qureshi underscored Pakistan's desire and commitment to take the multidimensional relationship with Malaysia to strategic level," it said.
"Appreciating Pakistan's constructive role for peace and stability in Afghanistan, including hosting of millions of refugees, Foreign Minister Abdullah welcomed the convening of the Extraordinary Session as a timely initiative to address the humanitarian crisis in Afghanistan."
Also read: Qureshi confident of OIC moot's success
The FO further stated that the ministers also noted the importance of capacity building support for Afghanistan in various sectors, as FM Qureshi lauded Malaysia's humanitarian efforts in Afghanistan.
"The ministers agreed to enhance high-level exchanges for momentum in bilateral relations. Foreign Minister Qureshi also looked forward to welcoming Foreign Minister Abdullah at the 48th Session of OIC Council of Foreign Ministers scheduled to be held in Islamabad in March 2022," the statement added.
The session is being convened at the initiative of the Kingdom of Saudi Arabia as the OIC Summit Chair. Pakistan welcomed the call and offered to host the session.
COMMENTS
Comments are moderated and generally will be posted if they are on-topic and not abusive.
For more information, please see our Comments FAQ