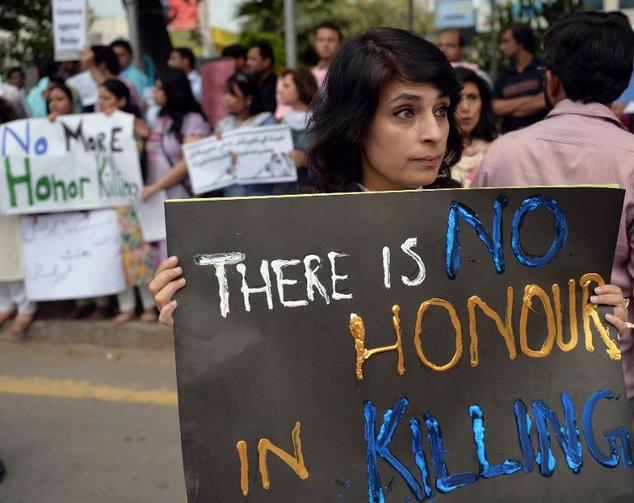 ---
LAHORE:
Cases of 'honour killing' of women in Punjab increased by 20% last year as compared to 2019, a report has revealed.
Punjab Gender Parity Report (2019 & 2020) showed that 197 cases of 'honour killing' were reported to Punjab Police in 2019, while the figure for the following year was 237.
Punjab Women Development Minister Ashifa Riaz Fatyana was the chief guest at the launching of the report.
It pointed out increase of 15% in gang rape cases from 190 in 2019 to 219 in 2020.
Eight cases of custodial rape were reported in 2020 as compared to none in 2019 and 2018.
Punjab Commission on Status of Women (PCSW) Secretary Tariq Khan Niazi told The Express Tribune that the increase in crimes could be attributed to the lack of social interaction during the Covid-19 pandemic, low rates of conviction, culture of impunity and high probability of compromise within families leading to fewer perpetrators being prosecuted.
In 2020, Faisalabad and Sargodha districts recorded the highest number of murders of women on the pretext of honour at 19 each.
No case of 'honour' killing was reported in Bhakkar, Chakwal, Lodhran and Narowal during the year.
Tariq Khan said the report showed an increase in domestic violence during the pandemic.
Data received from the Punjab Safe Cities Authority and Punjab Unified Communication and Response (PUCAR-15) system showed a 25% increase in reported instances of domestic violence during April and May 2020, when lockdown was imposed across the province.
Punjab Police received more than 13,000 calls related to domestic violence in 2020.
Over 300 indicators of six main thematic areas of demographics, governance, health, education, economic participation and opportunities, and justice with key findings and recommendations were taken into account for compilation of the report, the official said.
Read Women's rights
Other key findings showed the literacy rate among females in the province was 57% as compared to 73 % in males.
As many as 23 % girls and 19% boys were out of school. The number of boys schools was 3% higher than girls schools in Punjab. At district level, the female judicial officers' percentage was 16% and in the high court 5%.
The enrolment of female lawyers was 16% and male lawyers 84%.
In Punjab Assembly, female representation is only 20%, whereas in the provincial cabinet there is only 5% female representation.
Speaking on the occasion, the provincial minister said the success of any nation depended upon participation and contributions of both men and women.
"I hope that data included in this report, its analysis and recommendations will be used thoroughly in planning initiatives for the betterment of women and children," she said.
Ashifa Riaz said her ministry had been in touch with key government departments to share data, analytical findings, shortcomings and recommendations so that all stakeholders could join hands to work towards the betterment of women and girls in Punjab.
The report has been compiled by the PCSW in collaboration with United Nations Population Fund and Strengthening Participatory Organisation.
Published in The Express Tribune, December 10th, 2021.
COMMENTS
Comments are moderated and generally will be posted if they are on-topic and not abusive.
For more information, please see our Comments FAQ