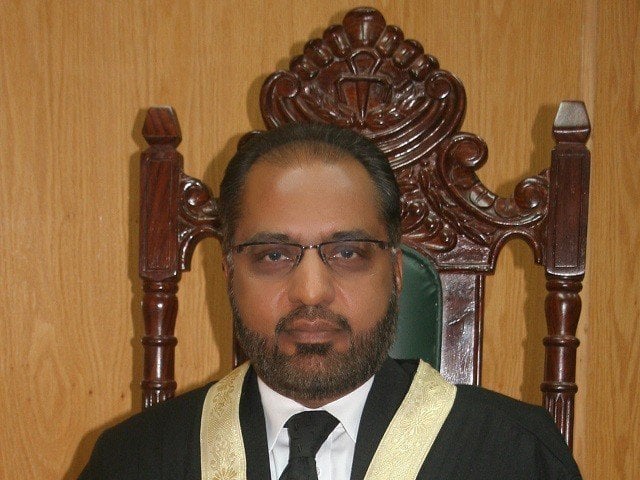 ---
ISLAMABAD:
The lawyer for the sacked Islamabad High Court jurist, Shaukat Aziz Siddiqui, on Tuesday cautioned that if judges were removed without an inquiry, it would set a wrong precedent.
A five-member larger bench of the apex court, headed by Justice Umar Ata Bandial, was hearing an appeal by Siddiqui against the opinion of the Supreme Judicial Council (SJC) and the October 11, 2018, notification under which he was sacked as a superior court judge for his July 21, 2018, for his speech at the Rawalpindi District Bar Association.
The former judge, in his speech, had accused the country's top intelligence agency of manipulating courts.
Siddiqui's lawyer Hamid Khan told the court that as per Article 209 of the Constitution, it was mandatory to investigate the allegations against a judge before deciding whether they should be removed or not.
Justice Bandial noted that the sacked judge in his speech had "transgressed limits".
Justice Mazhar Alam Miankhel observed that the former judge was issued a show-cause notice for the speech. "If he hadn't delivered the speech, the notice would not have been served," he added.
Justice Ijazul Ahsan remarked that it did befit a judge to humiliate institutions or the government.
"A judge's speech in the bar or at a public forum is supposed to be within constraints and limits," he added.
"Even an SC judge cannot comment on matters of foreign policy."
Read IHC to indict Shamim on 13th if he fails to submit real affidavit
Hamid contended that former chief justice MR Kayani had delivered speeches against martial law.
He added that then-chief justice Iftikhar Muhammad Chaudhry had also delivered speeches in different bar councils during the lawyers' movement of 2007.
Justice Sardar Tariq Masood replied that MR Kayani had not ridiculed his own institution.
He also wondered that why did the petitioner meet a military officer thrice at his residence despite mentioning in his order that the very same officer had committed an unconstitutional act by signing an agreement with the Tehreek-e-Labbaik in 2017.
Referring to Siddiqui's order in the Faizabad sit-in case, Justice Masood asked whether the former IHC judge had taken a suo motu notice because no complaint against the army or its serving officers had been filed in the court.
"Did the high court have the authority to take a suo motu notice?" Justice Masood asked, to which Hamid responded that the court could take notice if "something unlawful" emerged.
Justice Bandial recalled that the SJC had issued two show-cause notices to Siddiqui for November 27, 2017, order but that no action was taken on those notices.
Hamid maintained that this action of issuing notices itself showed how much the SJC that gave the verdict against Siddiqui was under the influence of an intelligence agency.
Justice Bandial expressed his anger and asked the lawyer not to give sweeping statements and levelling allegations.
COMMENTS
Comments are moderated and generally will be posted if they are on-topic and not abusive.
For more information, please see our Comments FAQ