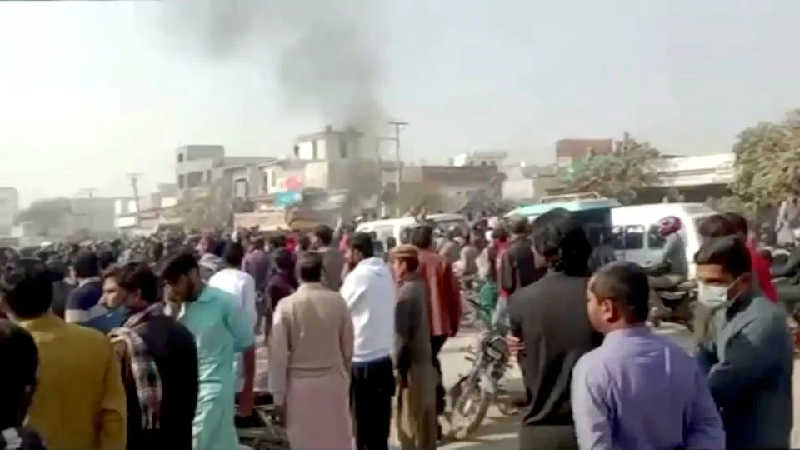 ---
ISLAMABAD:
A day after blasphemy allegations spurred spine-chilling incident of mob lynching in Sialkot, vehement condemnations poured in on Saturday from noted religious scholars, expressing anger over the horrific incident for "disgracing Pakistan and the entire Muslim community".
The nation was left shell-shocked on Friday when a Sri Lankan national, identified as Diyawadanage Don Nandasri Priyantha, was brutally lynched before being set on fire by a mob in Sialkot. The sickening incident outraged the nation as the civil and military leaders denounced it as "horrific" "shameful" and "extra-judicial vigilantism".
Prominent Islamic scholar Mufti Taqi Usmani on Saturday condemned the incident, saying the use of violence had disgraced Pakistan and the entire Muslim Ummah.
In a message posted on social media, the former judge of the Federal Shariat Court maintained that although blasphemy was an extremely heinous crime, it required equally strong evidence to prove it.
"Blasphemy is an extremely heinous crime; but it requires equally strong evidence to prove it. Taking it upon oneself to lay accusation and mete out punishment in a barbaric and Haram way has no justification at all. The #Sialkotincident has disgraced this country and Muslim Ummah," he wrote on Twitter.
'Islam rejected violence'
Tahir Mahmood Ashrafi, Chairman Pakistan Ulema Council, asserted that the culprits involved in the barbaric act had brought shame to Islam and Pakistan. "Islam preached peace and rejected violence," Ashrafi said.
Read 'Horrendous and barbaric': Celebs livid over Sialkot incident
He announced that the clerics will soon hold a press conference to condemn the incident unanimously and also visit the Sri Lankan embassy in Pakistan to express condolence.
In a statement, Minhaj-ul-Quran International (MQI) founding leader Dr Tahirul Qadri deplored the "painful incident" and said it had damaged the peaceful teachings of Islam and the identity of Pakistan.
Former Ruet-e-Hilal Committee chairman Mufti Muneebur Rehman said that there was no space for such acts as Pakistan has its own constitutional and legal system to address the matters.
Addressing a news conference on Friday, Special Representative for Religious Affairs and Interfaith Harmony Hafiz Tahir Mehmood Ashrafi had condemned the lynching on "behalf of all Ulema" and said that it had "defaced Islam".
"The elements involved in the incident have tried to damage Islamic laws and teachings," Ashrafi said. "The culprits will be punished for the barbarism."
The cleric added that the country had laws when it came to Namoos-e-Risalat -- the sanctity of the Holy Prophet (PBUH) -- and those involved in the incident had neither served the country, nor Islam.
Renowned cleric Maulana Tariq Jameel said that taking the law into one's own hands on the basis of a mere accusation was against the teachings of Islam.
"There is no room for violence and extremism in Islam," he said, calling on religious scholars to play a positive role in preventing extremism in the country.
COMMENTS
Comments are moderated and generally will be posted if they are on-topic and not abusive.
For more information, please see our Comments FAQ