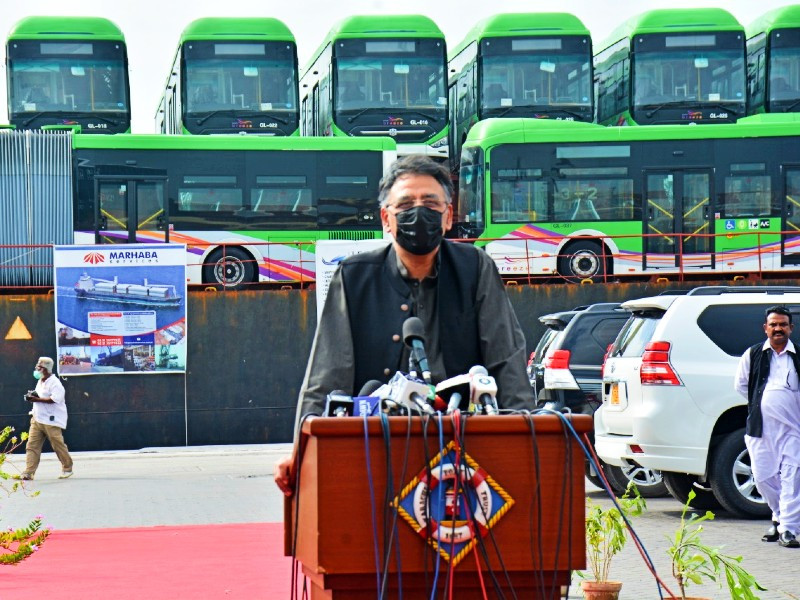 ---
ISLAMABAD:
Federal Minister for Planning, Development and Special Initiatives Asad Umar on Sunday announced that the Karachi Green Line project will be ready for a trial run in the next 10 days.
The minister took to his official Twitter handle to state that the project was reviewed in "detail" on Saturday.
"After the trial run Prime Minister Imran Khan will come to Karachi and inaugurate the project," Umar wrote.
کل کراچی گرین لائن منصوبے کا تفصیلی جائزہ لیا. انشاءاللہ اگلے دس دن میں یہ منصوبہ ٹرائل آپریشن کے لئے طیار ہو گا. اس کے بعد وزیراعظم @ImranKhanPTI کراچی آ کر منصوبے کا افتتاح کریں گے. تقریباً دو ہفتے ٹرائل آپریشن کے بعد انشاءاللہ 25 دسمبر کو کمرشل آپریشن کا آغاز کر دیا جائے گا

— Asad Umar (@Asad_Umar) November 28, 2021
Furthermore, after a trial of "about two weeks" the commercial operation will launch on December 25, he maintained.
Earlier this year the first consignment of 40 Green Line Bus Rapid Transit System (BRT) —the port city's first mass transit system — buses arrived from China.
Read Green Line deadlines
The work on the Rs24 billion federal-funded project — conceived by the previous Pakistan Muslim League-Nawaz (PML-N) government — had started in February 2016 and was scheduled to finish before the general election in July 2018.
The incumbent PTI government too has given several deadlines but has yet to perform the ribbon-cutting on the project.
In August, Umar had said that the Green Line service in Karachi will become operational by October this year.
COMMENTS
Comments are moderated and generally will be posted if they are on-topic and not abusive.
For more information, please see our Comments FAQ