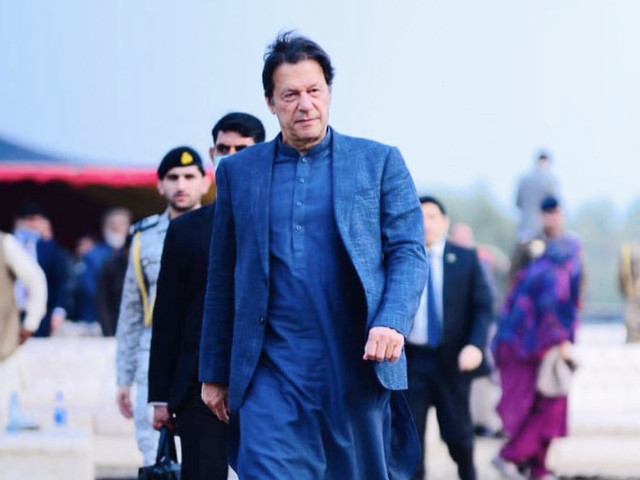 ---
ISLAMABAD:
Prime Minister Imran Khan on Sunday pledged to take action against land grabbers and their accomplices after the completion of the first phase of cadastral mapping revealed that the total value of encroached State land was estimated at about Rs5.59 trillion.
The premier shared the survey on Twitter, according to which the value of encroached land in three major cities – Islamabad, Karachi and Lahore -- stood at Rs2.63 trillion.
The document further revealed that the value of encroached forest land was around Rs1.86 trillion.
"This has aggravated Pakistan's existing lack of sufficient forest cover," PM Imran added.
In September this year, the premier had launched the cadastral mapping of Islamabad to ensure transparency in transactions and eliminate land grabbing.
Like protests over EVMs, when we began cadastral mapping of Pak to digitalise land records there was massive resistance. Results of Phase 1 survey of state lands shows why the resistance: phenomenal state land encroachment incl of forest land thru land mafia-pol elite connivance. pic.twitter.com/wfIF99CFJV

— Imran Khan (@ImranKhanPTI) November 21, 2021
In his series of tweets, PM Imran wrote that his government had faced massive resistance when it began the cadastral mapping of Pakistan to digitise land records "like protests over EVMs [electronic voting machines]".
"Results of Phase 1 survey of state lands show why the resistance: phenomenal state land encroachment including [that] of forest land through land mafia-political elite connivance," he added.
Also read: PM asks provinces to finalize cadastral mapping within 2 months
The survey was conducted on the lands of the forest department, Railways, Civil Aviation Authority, National Highways and Evacuee Trust Property.
With this "accurate" digital record, the premier said the government would now take action against
The most shocking facts to come out are: 1. The huge total value of all encroached state & 3 major cities land - approx Rs 5595 bn; 2. The approx value of encroached forest land - Rs 1869 bn. This has aggravated Pak's existing lack of sufficient forest cover.

— Imran Khan (@ImranKhanPTI) November 21, 2021
"these land mafias and their facilitators".
PM Imran's tweets came after Special Assistant to the PM on Climate Change Malik Amin Aslam earlier in the day shared the cadastral maps of State lands.
The SAPM announced that the premier would share this data with the provinces for strict action against land grabbers encroaching many of these lands.
Addressing the media in Islamabad, the SAPM shared that the latest cadastral maps were prepared by the Survey of Pakistan. The surveyed provinces included Punjab, Khyber-Pakhtunkhwa and Balochistan whereas data from Sindh was yet to be received because of information delay from the provincial authorities.
With this accurate digital record we will now take action against these land mafias & their facilitators.

— Imran Khan (@ImranKhanPTI) November 21, 2021
The SAPM informed the media that under the cadastral mapping, around an area of 50,000 square kilometres was being covered in the four federating units of Punjab, K-P, Balochistan and Sindh.
In Punjab and K-P, he said around 160,000 acres public or state land was encroached that was worth Rs500 billion.
"The forest land mapping of 30,000 square kilometers was also completed under the digitised cadastral mapping out of which 700,000 acres forest land was encroached upon by the land grabbing mafia," he added.
Amin underlined that the encroached state land number was highest in Sindh but due to the delay in data sharing, its cadastral map was yet to be received.
At the launch of the Islamabad cadastral mapping in September, the premier had said under the digital data system, land worth Rs400 billion was retrieved from the land grabbing mafia including Rs300 billion land of CDA and Rs100 billion worth of forest land.
He had noted that with the use of technology in Islamabad, 45 acres of green areas along the Srinagar Highway alone had been stretched over to 113 acres. "About, 1,000 acres of forest land is under illegal occupation," he had maintained.
(With input from APP)
COMMENTS
Comments are moderated and generally will be posted if they are on-topic and not abusive.
For more information, please see our Comments FAQ