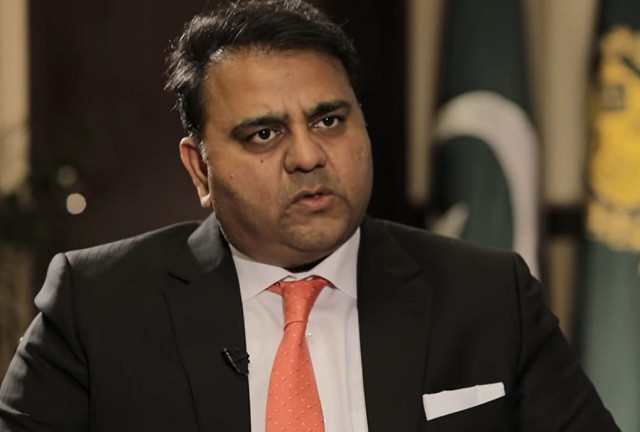 ---
ISLAMABAD:
Minister for Information Fawad Chaudhry has made it clear that the government will not hold talks with the proscribed Tehreek-e-Labbaik Pakistan (TLP) unless its protesting workers vacate streets and hand over those responsible for the deaths of the police personnel to authorities.
"We have made it clear that there will be no talks unless the workers of the proscribed party clear the roads and hand over those involved in the martyrdom of police personnel to the institutions," the federal minister wrote on his official Twitter handle on Thursday.
واضع کر چکے ہیں جب تک کالعدم جماعت کے لوگ سڑکیں خالی نہیں کرتے اور پولیس کو شہید کرنیوالے مجرموں کو اداروں کے حوالے نہیں کیا جاتا کوئ مذاکرات نہیں ہو سکتے محب وطن لوگ اس احتجاج سے خود کو لاتعلق کریں اپنے گھروں کو لوٹ جائیں اور ریاست کیخلاف دھشت گردی کا حصہ نہ بنیں #FasadiTLP

— Ch Fawad Hussain (@fawadchaudhry) October 28, 2021
The minister went on to urge "patriot" Pakistanis to distance themselves from the protest, advising them to "return to their homes and not become a part of terrorism against the state".
In another tweet earlier today, Fawad said that Prime Minister Imran Khan had summoned a meeting of the National Security Committee (NSC) tomorrow (Friday) to review the emerging situation.
کالعدم جماعت کی غیر قانونی سرگرمیوں سے پیدا ہونیوالی صورتحال کے پیش نظر وزیر اعظم عمران خان نے کل قومی سلامتی کمیٹی کا اجلاس طلب کیا ہے، اس اجلاس میں قومی سلامتی سے متعلق دیگر امور بھی زیر غور آئیں گے۔

— Ch Fawad Hussain (@fawadchaudhry) October 28, 2021
Also read: PM Imran summons NSC meeting amid 'violent TLP protests'
Thousands of supporters of the banned outfit neared Gujranwala city in Punjab as they continued their march towards the federal capital, disrupting routine life along the route of the rally and creating severe difficulties for the masses.
In view of the circumstances, Punjab Chief Minister Usman Buzdar has given a free hand to law enforcement agencies to deal with the TLP protests with an iron fist.
Presiding over a high-level meeting, CM Buzdar directed LEAs to take all possible measures to maintain the law and order situation in the province.
He underscored that the government could not allow anyone to play with the lives and properties of citizens and it is the responsibility of the government to maintain law and order and protect public property and the government will fulfil its responsibility in all circumstances.
At least five police officials have been martyred in clashes against the banned organisation since October 27. Another official who was injured yesterday succumbed to his injuries today.
COMMENTS
Comments are moderated and generally will be posted if they are on-topic and not abusive.
For more information, please see our Comments FAQ