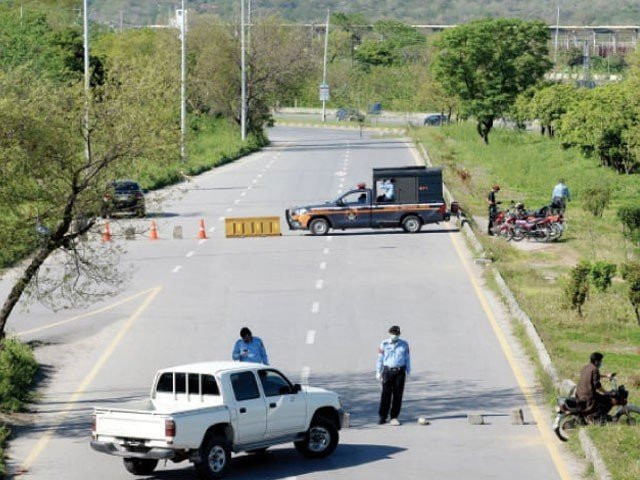 ---
RAWALPINDI/ LAHORE:
Punjab Chief Minister Usman Buzdar has given a free hand to law enforcement agencies (LEAs) to counter the ongoing violent protests by the banned Tehreek-e-Labbaik Pakistan (TLP).
Presiding over a high-level meeting here on Thursday, Buzdar directed the LEAs to take all possible measures to maintain the law and order situation in the province.
The government cannot allow anyone to play with the lives and properties of citizens and it is the responsibility of the government to maintain law and order and protect public property and the government will fulfil its responsibility in all circumstances, he underscored.
At least five police officials have been martyred in clashes against the banned outfit since October 27. Another official who was injured yesterday, succumbed to his injuries today.
Meanwhile, thousands of supporters of the banned TLP neared Gujranwala city as they continued their march towards the federal capital, disrupting routine life along the route of the rally and creating severe difficulties for the masses.
The authorities, in order to stop the rally, have blocked major thoroughfares such as the Murree Road and adjacent highways with containers and dug trenches across GT Road.
Multiple roads have been closed for the second day as educational institutions, offices, banks and shopping malls in the affected areas remained shut. TLP workers have also blocked GT Road in Gujranwala district from both sides.
A TLP spokesperson has confirmed that talks are being held with his government in Islamabad. It is not clear who is representing the TLP in these talks.
A day earlier, the federal government announced the deployment of Rangers in Punjab for 60 days after at least four policemen were martyred and over 250 sustained injuries in clashes between participants of the march and law enforcers near Sadhoki.
The decision to deploy the Rangers was taken in a federal cabinet meeting, Interior Minister Sheikh Rashid told a press conference in Islamabad. According to an official notification, the Rangers will be deployed across the province for two months at the request of the provincial government.
"I am directed to convey the approval of Government of Punjab under Section 4(2) of Anti-Terrorism Act (1997) read with Article 147 of Constitution of Pakistan to entrust power to Pakistan Rangers (Punjab) in terms of section 4(3) of Anti-Terrorism Act 1997 within Punjab to prevent the commission of terrorist acts," read a letter of the Punjab government to the federal interior ministry.
Furthermore, Federal Minister for Information and Broadcasting Fawad Chaudhry said the TLP would now be treated as a "militant" organisation in view of its persistent tendency to challenge the writ of the state by creating chaos with the support of anti-state elements.
"On Tuesday, a clear policy decision was taken in a meeting, which was held under the chairmanship of Prime Minister Imran Khan and attended by the top leadership of Pakistan Army, intelligence agencies heads and all the authorities concerned, that the proscribed Tehreek-e-Labbaik will be treated as a militant group," said the minister addressing a post-cabinet meeting news conference.
"We will not treat this organisation as a political party," he said while urging other concerned departments especially the Election Commission of Pakistan to play their role in this regard.
Internet services have also been suspended in many areas, situated on the route of the march and residents are facing hardships due to lack of public transport.
A heavy deployment of law enforcers has also been reported at different points with measures being taken to stop the rally before it reaches Islamabad.
Due to the security situation in the region, Pakistan Railways has also cancelled several scheduled trains in view of possible sit-ins in Islamabad by the proscribed right-wing outfit.
Railway operations between Lahore and Rawalpindi have been disrupted and all trains between the two cities have also been cancelled.
The route of the Tezgam Express locomotive from Lahore to Rawalpindi has been diverted from Lahore to Gujrat instead of its usual Lahore to Faisalabad via Rawalpindi route.
Read More: Trains cancelled due to TLP sit-in, protests
Three trains from Lahore to Rawalpindi, Awam Express, Sabk Khurram Rail Car and Jaffar Express left for Rawalpindi several hours late whereas railway operation in Lahore, Rawalpindi and Peshawar sections was affected.
Security arrangements had been tightened at the railway stations with police commandos deployed at all entrance and exit points. Security was also deployed inside the trains.
DIG Railway Police Waqar Abbasi directed the personnel to be on patrol and alert at Lahore, Rawalpindi, Peshawar, Jhelum, Lala Musa, Gujarat and Wazirabad railway stations and platforms.
COMMENTS
Comments are moderated and generally will be posted if they are on-topic and not abusive.
For more information, please see our Comments FAQ