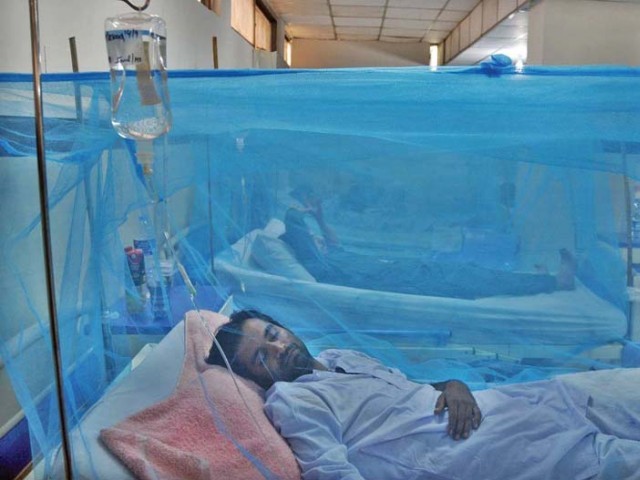 ---
ISLAMABAD:
The dengue virus infected 152 more people in the capital on Saturday, making the total stand at 1,801, said the Islamabad District Officer (DHO) Dr Zaeem Zia.
Six citizens have passed away because of dengue fever in Islamabad so far. According to Dr Zia, 451 cases were brought to Holy Family Hospital (HFH) in Rawalpindi, 106 to Benazir Bhutto Hospital (BBH), 26 to Rawalpindi District Head Quarters, 79 to PIMS, 77 to Polyclinic Hospital, 229 to the Federal General Hospital, and 32 to the Capital Development Authority hospital.
The DHO said over 700 infected residents of Islamabad visited private hospitals and laboratories within the twin cities. He added 1,161 cases emerged from rural areas of the federal capital, while 640 surfaced from urban areas.
Read Another dengue patient dies in capital
In neighbouring Rawalpindi, 76 individuals were infected by the virus on Saturday. Eight patients are in critical condition. Around 274 beds are occupied in three allied hospitals by all the total 229 patients. The number of beds in Benazir Bhutto General Hospital, District Headquarters Hospital, and Holy Family Hospital had been increased to 274 from 237 owing to the influx of new infections.
So far, the dengue mosquito has infected 1,420 people in the Pindi district. The health authorities have expedited the anti-dengue campaign while a three-month extension has been given to contractual employees carrying it out.
Published in The Express Tribune, October 17th, 2021.
COMMENTS
Comments are moderated and generally will be posted if they are on-topic and not abusive.
For more information, please see our Comments FAQ