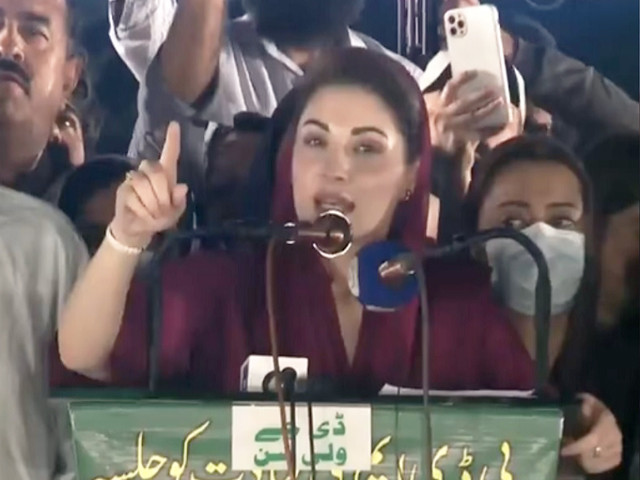 ---
FAISALABAD:
A relentless Maryam Nawaz fired on Saturday off a trenchant broadside against Prime Minister Imran Khan, charging him with undermining state institutions by launching, what she described, a "suicide attack" on the armed forces.
The Pakistan Muslim League-Nawaz Vice President and the most vocal opponent of the ruling Pakistan Tehreek-e-Insaf (PTI) chief, told a charged crowd at the Pakistan Democratic Movement (PDM) rally in Faisalabad that Imran Khan was undermining state institutions to satisfy "his selfish zeal".
"Imran Khan used to blame Nawaz Sharif of locking horns with the state institutions; but when his turn came, attacking the institution of the armed forces is one thing, he in fact carries out a suicide attack on them [just to save one person]," Maryam told the rally.
She was referring to the Inter-Services Intelligence (ISI) chief Lt-Gen Faiz Hameed. She said that Imran Khan was not taking a stand on principle but wanted to retain the spymaster to save his own government.
Maryam not only harangued Prime Minister Imran Khan throughout her address, but also dedicated a good part of her speech to take a dig at Lt-Gen Faiz Hameed also. She said that Imran Khan, by saving his "godfather", was also making a mockery of the institution of the armed forces.
"Imran Khan wants to a save the person, who was stealing elections and ballot boxes for him; who was oppressing his opponents; blackmailing judges to get favourable decisions; abducting journalists; and pulling the plug on [TV] channels," she added.
Referring to the ongoing impasse over the appointment of new ISI director general, the PML-N leader asked what the fault was of other generals, whose transfers were in limbo due to the "stand-off between the army and the government over the ISI DG's posting".
Maryam, the daughter of PML-N Quaid Nawaz Sharif, mocked the prime minister by saying that all the transfers and postings were not done by him, but by "ghosts". The postings made by the prime minister, she continued, were based on alphabets, say "whose names starts with what letter".
Maryam said that Imran Khan claimed that he wanted to retain the incumbent ISI chief because of his [Gen Faiz] knowledge and dealing of Afghanistan. But in fact, she added, he only wanted to prolong his rule because he knew that "if the DG ISI was replaced, his government falls like a house of cards".
Maryam reminded the charged gathering that former prime minister Nawaz Sharif had forewarned that Imran Khan had a habit of backstabbing his benefactors. "Today, even they would acknowledge this," said the PML-N leader, who led the party at the rally in the absence of PML-N President Shehbaz Sharif.
"The prime minister has the prerogative of making the transfers and postings, but to exercise this prerogative, one has to be an elected PM," she said. "Imran Khan's stand is not for the supremacy of the Constitution, but to ridicule it further."
READ PDM huddle put off till Oct 18
And taking a further dig at the prime minister, she said that Imran Khan would now be "interviewing candidates for the slot" of the ISI chief and he would be asking them, "if they can shut down RTS [election results transmission system], steal ballot boxes, blackmail judges, secure victory in Senates despite being in minority, force leaders to change loyalty and plant drugs on Rana Sanaullah".
She said that Imran Khan should not even think of becoming Nawaz Sharif. She added that Nawaz Sharif took a stand, which was dubbed as fight against the institutions. Nawaz stood for the civilian supremacy for which he paid a heavy price by losing his premiership thrice and going to prison.
"Wearing lion's skin will not make him a lion. Imran Khan cannot cloak his incompetence by trying to become a political martyr. What face he will show to the public. People are ready to grab you by your collar and drag you, "she said.
High tariffs
She said that people were getting expensive electricity and facing load-shading due to "the theft of Rs122 billion" by the ATMs of Imran Khan in the LNG deals.
Those ATMs, she continued, were also responsible for wheat, sugar, BRT Peshawar and innumerable other scandals.
She said that Imran used NAB against his opponents, but when his turn came to answer for his actions, he changed the NAB law to save his own skin. The PTI leaders had even topped in the Pandora papers but they said Imran Khan name was not in it. "How can a ring leader of thieves be honest," she charged.
Summing up her trenchant of criticism of the government, she said that Imran Khan had failed on all fronts, including the foreign policy. During Nawaz Sharif's tenure, foreign investment was coming to Pakistan and the country got the China-Pakistan Economic Corridor (CPEC).
"During Imran's stint, their policy can be summed up in the fact that India's Modi does not take his calls, and American President Joe Biden does not call him. Imran did not go to the UN because no world leader wants to meet him. This was not the embarrassment for him but for the entire nation."
COMMENTS
Comments are moderated and generally will be posted if they are on-topic and not abusive.
For more information, please see our Comments FAQ