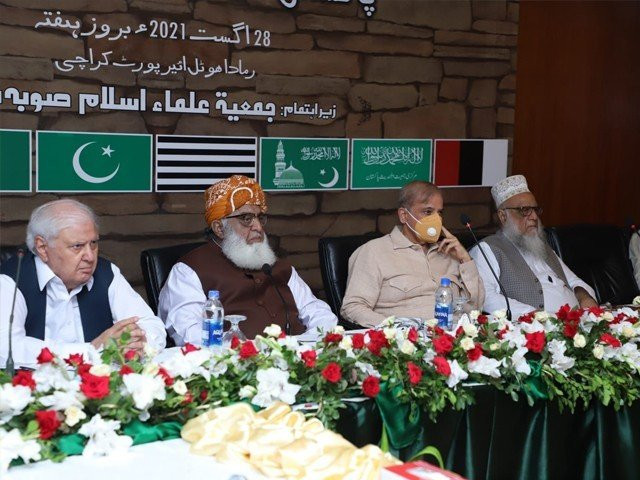 ---
ISLAMABAD:
The Pakistan Democratic Movement (PDM) on Monday put off its meeting, scheduled to be held on Monday, till October 18.
The decision was taken in a meeting chaired by opposition alliance president Maulana Fazlur Rehman in Islamabad due to the demise of PML-N Lahore President and MNA Pervez Malik and country's nuclear scientist Dr Abdul Qadeer Khan, who passed away on Sunday.
Former premier Nawaz Sharif and Leader of the Opposition in the National Assembly Shehbaz Sharif participated in the meeting via video link while Aftab Sherpao, Hafiz Hamdullah, Owais Noorani and other leaders were present in the huddle.
The PDM was scheduled to take recommendations on the decision taken during the meeting held in Karachi, and seek conclusive opinion of its members regarding matters related to the long march planned for Islamabad.
The opposition's role in the upcoming joint session of parliament was to be discussed and consultation on Afghanistan's current situation and opposition's joint strategy on the matter was also planned.
The PDM leaders, in the meeting, offered their condolences on the demise of PML-N leader and Dr AQ Khan.
The opposition alliance will be holding a public gathering in Faisalabad on October 16 as per schedule.
Read Bilawal hits out at PDM for giving walkover to 'selected' govt
Later, while speaking to media, Fazl said the anti-government alliance was determined to topple the PTI-led government.
He maintained that the government was promulgating presidential ordinances to "benefit its members, which was not a good practice".
Lashing out at the PTI government, Fazl said the incumbent regime had failed to deliver on its promises. He said he was "surprised that the PTI was calling for legislation for holding transparent elections in the country".
On Saturday, Shehbaz stepped up pressure on the government, seeking "transparent early elections" in the country to steer it out of its current crisis.
The development came after Fazl met the opposition leader in National Assembly at the latter's residence in Lahore.
The two leaders discussed various issues including political situation of the country and rising inflation, particularly the recent hike in the prices of petrol and electricity.
COMMENTS
Comments are moderated and generally will be posted if they are on-topic and not abusive.
For more information, please see our Comments FAQ