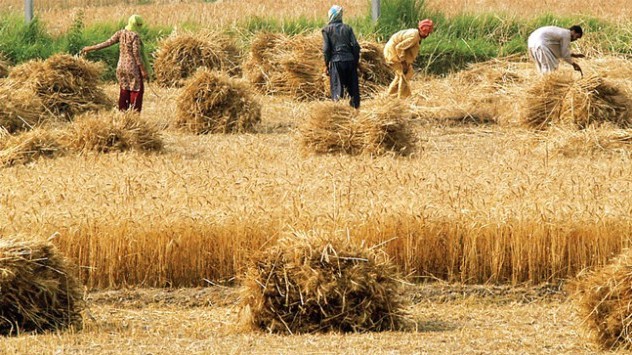 ---
ISLAMABAD:
Federal National Food Security and Research Minister Fakhar Imam on Wednesday urged Sindh, Balochistan and Khyber-Pakhtunkhwa to increase their daily release of wheat to the mills at the rate set by the Centre to bring down the prices of flour.
The minister was presiding over a meeting of the National Price Monitoring Committee held at the Finance Division.
According to statement issued by the finance ministry, the committee observed that the price of a 20kg bag of wheat flour was Rs1,100 in Punjab and Islamabad Capital Territory because of the daily release of wheat at the government-specified rates.
However, the prices of the same wheat flour bag in Karachi, Quetta and Peshawar ranged between Rs1,300 per bag and Rs1,460 per bag.
Read NA panel recommends Rs2,200 wheat support price
The Sindh government assured the committee that it would start daily release of wheat at the Centre-set price from October 16.
The finance adviser told the committee about the increase in the weekly Sensitive Price Indicator (SPI) by 1.21%, in comparison with the consecutive decline over the last two weeks.
The prices of 21 items remained stable, whereas eight items registered a decline during the week under review.
The food secretary informed the participants about the sufficient availability of wheat stocks with the provinces and the Pakistan Agricultural Storage and Services Corporation (Passco).
The industries and production secretary highlighted the start of the voluntary crushing of the sugarcane in some districts of Sindh by October 25.
He also briefed the committee about the priority of the government to begin sugarcane crushing by the first week of November 2021 in Punjab.
The sugarcane production is expected to be in greater quantity against last year.
Read more Timely incentives for wheat production urged
The participants of the meeting were informed that imported sugar was being provided to Sasta Sahulat Bazaars and Utility Stores Corporation at the subsidised rates of Rs90 per kg to provide relief to consumers. The early crushing of sugarcane will further reduce the prices of the commodity in the local markets.
The committee was also briefed about the continuous fluctuations in the international prices of palm and soyabean oils.
The Federal Board of Revenue (FBR) has worked out an arrangement with all the relevant stakeholders and a firmed up proposal will be submitted before the cabinet to reduce duty on the import of edible oil, which in turn will reduce the prices of ghee in the local markets.
The food secretary informed the participants about the increase in the prices of chicken due to seasonal factor.
The opening of restaurants and banquet halls has pushed the demand for increased consumption of chicken and its prices will be streamlined with the improved supply in a few weeks.
COMMENTS
Comments are moderated and generally will be posted if they are on-topic and not abusive.
For more information, please see our Comments FAQ