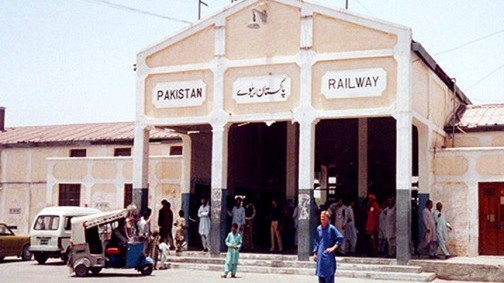 ---
KARACHI:
In a bid to alleviate the train's lack of passengers and resulting financial losses, Pakistan Railways has now started running Karachi Circular Railway (KCR) coaches to Mirpurkhas. In the past, despite offering citizens a modern intra-city transport experience, the local train had largely remained on the fringes of public interest; carrying but a dozen or so fare-payers on its best days.
The train's lack of popularity, to some extent, is believed to be rooted in its long troubled past and the two decades of closure that wiped its existence from a generation's recall, followed by a sudden, ad hoc restoration.
The train service was only partially resurrected in the winter of 2020, when the Supreme Court ordered Pakistan Railways to reinstate KCR on an emergency basis, after a gap of 21 years. Without a comprehensive plan, it appeared that the national railway company's efforts towards KCR's revival were largely limited to avoiding contempt of court, with little bearing on practical implementation.
Former railway minister Sheikh Rashid inaugurated the restoration of the KCR service on November 19, 2020. On this occasion, only the main line track of the Circular Railway from City Station to Papri Station was restored. It should be noted that Karachi Circular Railway has its own loop of 44 kilometres, covering Orangi, SITE, Lyari, Nazimabad, Liaquatabad, Gulshan-e-Iqbal, Landhi. Malir, Nathakhan and other areas, which largely remain busted. However, trains could now run on the main line track to reach other parts of the country, which gave the state-owned railway company just enough legal leeway to wiggle out of any cases of contempt of court.
Later, Pakistan Railways restored 14 kilometres of the KCR loop from City Station to Orangi Town on February 10, 2021, and at the same time extended KCR service to main line Dhabeji to meet the shortage of passengers.
However, this policy of Pakistan Railways also fell short; failing to garner enough passengers for the train and eventually landing the service in a financial crisis. Recently, in what could be seen as a last-ditch attempt to bring in fare-payers, Pakistan Railways decided to extend the KCR service to Mirpurkhas.
Speaking in this regard, an official of the national railway company confirmed that although the previous extension of the KCR service from Orangi Town to Dhabeji had come to nothing, the latest appendage has resulted in a slight increase in passengers. "The inclusion of Mirpur Khas in the KCR service has been great in terms of revenue generation and we have seen a positive response from the people as well," the officer corroborated. "However, KCR's success is not possible unless its original loop which is established in densely populated areas of the city is also restored," he added.
The circular railway loop covers 44 kilometres out of which 14 kilometres going from City Station to Orangi Town has been restored while the remaining 30 kilometre track and station are in dilapidated condition. The loop will be gradually restored under Phase II and Phase III of the rehabilitation process.
In this regard, talking to the media on the occasion of arrival of green line buses at the Karachi port last week, Federal Minister Asad Umar said that Prime Minister Imran Khan would lay the foundation stone for the reconstruction of Karachi Circular Railway on September 30.
Similarly, Pakistan Railways Chairperson and Secretary Habib-ur-Rehman Gilani said that Pakistan Railways has been providing local service on the mainline in the past as well. PC-1 has been approved by the Central Development Working Party (CDWP) for rehabilitation of KCR. "It will be approved by the Executive Committee of National Economic Council (ECNEC) this month, after which development work will start at a faster pace. Development work is being carried out at various stations with the funds available now," he told The Express Tribune.
Published in The Express Tribune, October 6th, 2021.
COMMENTS
Comments are moderated and generally will be posted if they are on-topic and not abusive.
For more information, please see our Comments FAQ