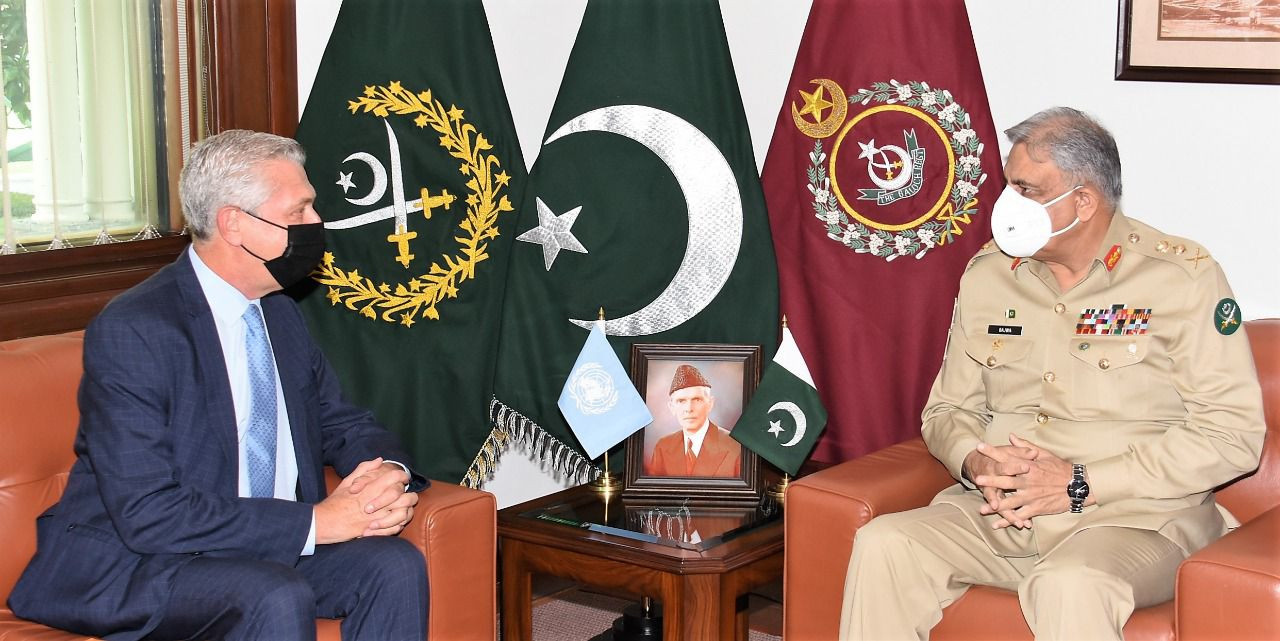 ---
Chief of Army Staff (COAS) General Qamar Javed Bajwa has reiterated the need for convergence of global efforts to avert humanitarian and refugee crisis in Afghanistan, the military said.
The army chief expressed these remarks during a meeting with United Nations High Commissioner for Refugees (UNHCR) Filippo Grandi at the General Headquarters in Rawalpindi, a statement issued by the Inter-Services Public Relations (ISPR) said on Thursday.
During the meeting, according to ISPR, matters of mutual interest, regional security, the current situation in Afghanistan and collaboration in humanitarian assistance were discussed.
The statement said that the COAS also appreciated the role of UNHCR in promoting the UN core values and their response during crises.
Read more: COAS asks Taliban to live up to foreign commitments
The military's media wing said that the visiting dignitary acknowledged Pakistan's effort for hosting 4 million Afghan refugees for over four decades.
He also appreciated Pakistan's role in the Afghan situation including the provision of humanitarian aid/assistance and pledged to play their role for further improvement in cooperation with Pakistan at all levels, it added.
Last week, the army chief had reiterated Pakistan's commitment to peace in Afghanistan, stressing constructive engagement and humanitarian support in the neighbouring country.
In a series of tweets from the DG ISPR's official account the military's media wing reported that, "The participants took comprehensive review of global, regional and domestic security environment. The forum was apprised on prevalent situation in Afghanistan, especially security along Pak-Afghan Border and effective safeguards in place against various threats."
Also read: Army chief reiterates resolve to thwart designs of CPEC spoilers
The ISPR added that the army chief expressed satisfaction over the efficacy of the comprehensive border management regime due to which Pakistan's borders and internal security remained intact amid a crisis-like situation in the region.
"The COAS concluded that the designs of external and internal forces inimical to peace and stability in Pakistan shall be thwarted at all costs," the communiqué said.
COMMENTS
Comments are moderated and generally will be posted if they are on-topic and not abusive.
For more information, please see our Comments FAQ