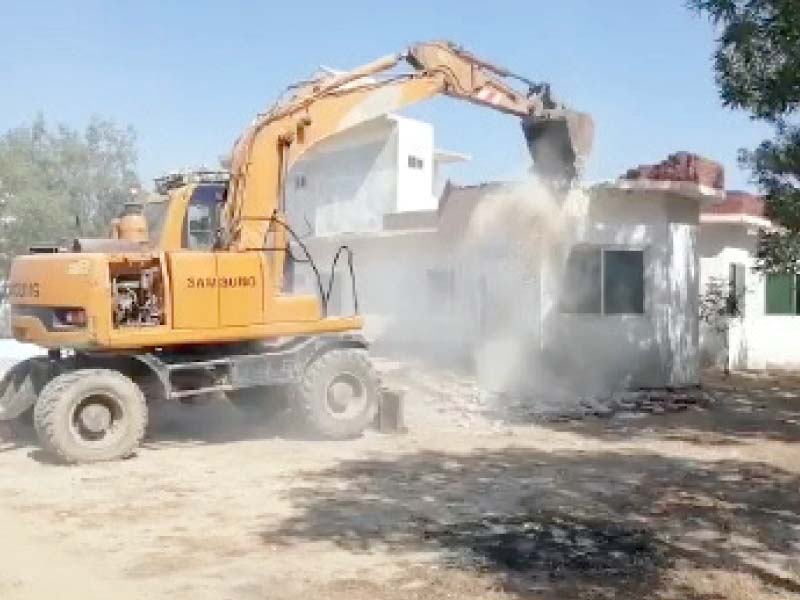 ---
ISLAMABAD:
Pushcarts, food trolleys, and clothing and accessories stalls feature heavily on the federal capital's numerous pedestrian sidewalks giving anyone and everyone the opportunity to set up shop wherever they please.
Despite the Capital Development Authority's (CDA) crackdown on such encroachments, they continue to thrive in the already busy city centres of Islamabad limiting parking spaces and foot traffic. Most of the vendors of the stall, which include sellers of hosiery items, mobile accessories, or finger foods, claim they provide ease of access to their customers.
However, with the commercial spaces of the capital already densely populated, customers disagree with this assessment. Shazia Mohsin, Fauzia Mehboob, and Iram Bukhari, who were out on a shopping spree in Aabpara Market, while talking to The Express Tribune, threw shade at Islamabad's twin's markets by comparing them.
"The markets of Islamabad have started to have the same unpleasant ambience as the Moti Bazar of Rawalpindi," they said. "It has become impossible to pass in front of these stalls as those who own them often flirt or pass explicit comments," they informed.
While the problem is not so severe in the posh areas of the capital, stalls and carts plague the low-income areas with busy and dilapidated markets like Sitara Market, Karachi Company Market, and Melody Market.
Fayyaz Abbasi, Secretary of the Pushcarts Union of Islamabad, informed the Express Tribune that there are a total of 11,000 small vendors in the urban bazaars of Islamabad and the surrounding commercial areas including Bhara Kahu, Khanna, Tarlai, Golra and Sihala.
Read 'Remove encroachment from Margalla Hills'
"Suzukis laden with fruit and pushcarts occupy the roads while up to eight feet of space in front of the shops is illegally blocked by shopkeepers themselves. Furthermore, shopkeepers also illegally rent out four feet of space to pushcart vendors on a monthly basis," he added.
"In the past, when there were actual fines and checks and balances these encroachments did not exist. Now every shopkeeper in Islamabad seems to be easily dealing with CDA, Anti-Encroachment Officers and other regulatory officials. They are now a mafia," accused Abbasi.
However, Fayyaz Khan, Arshad Abbasi, and Shafiq Satti, shopkeepers of Aabpara Market, denied Abbasi's accusations. "We have nothing to do with the stalls, pushcarts or other small vendors in front of their shops. We have not asked them to set up shop here and neither can we cannot stop them as this is the job of CDA," they said.
The three business owners were united with pedestrians and customers in their annoyance of such encroachments. "We try to abide by the rules as we do not want to lose our business," they said.
Meanwhile, Yasir Khan and Qalandar Shah of the pushcarts vendors union, while talking to The Express Tribune said that they had set up shop legitimately.
"What is wrong in what we are doing? Rain or shine we stand with our small business on the roadside and earn bread for ourselves and our children," they said.
Both of them proposed that the government should facilitate them with alternative spaces or jobs and they would stop occupying spaces on the existing commercial markets and roads. "We have not willfully taken up spaces in the markets; we are forced to trade in the open as we cannot afford big shops," they said.
CDA spokesman Asif Mehmood informed that encroachment was under control. "The job of controlling encroachments in markets and malls is assigned to the anti-encroachment wing of the Metropolitan Corporation and relevant teams of the wing take action against the encroachments on a daily basis," he told The Express Tribune.
Published in The Express Tribune, September 14th, 2021.
COMMENTS
Comments are moderated and generally will be posted if they are on-topic and not abusive.
For more information, please see our Comments FAQ