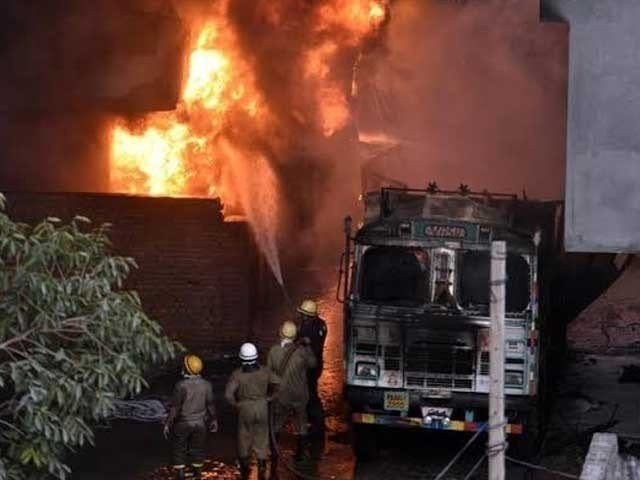 ---
KARACHI:
A local court on Saturday extended the interim bail of three suspects in Mehran Town factory fire case in which 16 workers were burnt to death due to lack of mandatory fire escape on the premises and absence of emergency firefighting equipmmnet.
The court of District and Sessions Judge East Karachi extended the interim bail of the premises owner Faisal Tariq, factory owner Ali Hassan Metha and manager Imran Zaidi.
The suspects' counsel, Advocate Hassan Sabir, argued that the suspects were being subjected to a media trial. He said his client had rented the house and set up a factory in 2019 after he closed a similar operation in Dubai due to financial problems.
The court inquired if the place where the factory had been set up was an industrial area. The suspects' counsel replied that the whole locality was an industrial area as there were hundreds of factories. He claimed that there was no chemical present in the factory, adding the offices of the owners were also in the same building.
"Investigations will reveal the flaws of the institutions," he said. The counsel added there was a power outage before the incident and as soon as electricity resumed, there was a short circuit.
He said the offices of the nominated suspects were also in the same factory. Advocate Sabir said when his client went to the Brooks Chowrangi to fetch the fire brigade, he found only dummy vehicles. He added that the factory owner went to another station, only to find that water was not available there. The counsel said there was no water in those fire brigades and it was filled from the water tankers.
Advocate Sabir said people died due to the delay in the cooling process. The court, while expressing its anger, inquired about the report on the fire brigade from the investigating officer.
Read 'Sindh's depts, institutions failed Mehran Town factory victims'
The counsel requested the court to also nominate fire brigade staff, civil defence and ministry of industry in the case.
He informed the court that the police nominated a man whose own nephew died in the fire incident. He argued that the suspects were cooperating with the investigating authorities and, therefore, requested the extension of their bail.
The investigation officer told the court that the factory owner was a British national and that the suspects will escape. The counsel argued that the investigation officer has brought the data pertaining to only one factory.
The suspects' counsel said the factory owners were being threatened by law enforcers.
Meanwhile, the relatives of the victims also arrived in court. They said they had been crying for help, but no one paid heed to their pleas. The court, while extending the protective bail of the suspects, adjourned the hearing till 7th September.
Published in The Express Tribune, September 5th, 2021.
COMMENTS
Comments are moderated and generally will be posted if they are on-topic and not abusive.
For more information, please see our Comments FAQ