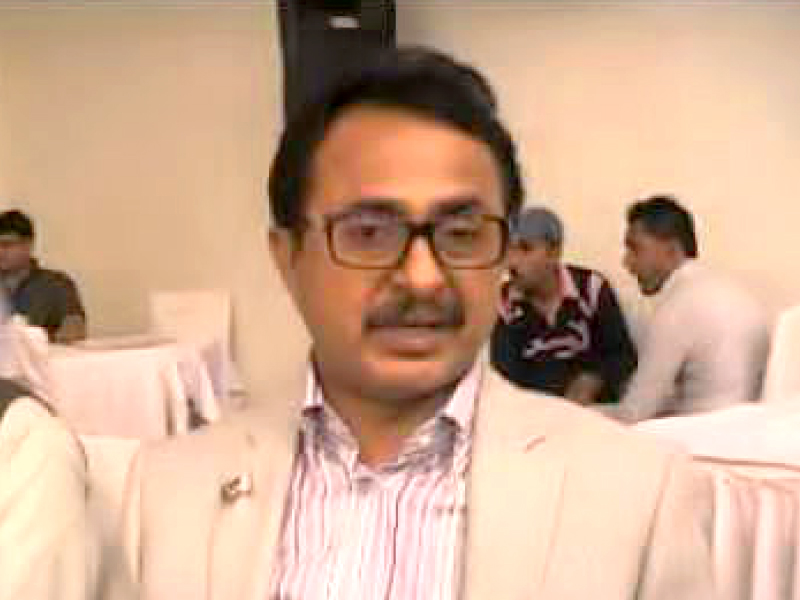 ---
KARACHI:
Opposition Leader in Sindh Assembly Haleem Adil Sheikh reit-erated on Sunday the demand for a fair and transparent probe into the horrific Mehran Town factory fire, which left at least 16 labourers dead and several others injured.
Addressing a press conference at the Sindh Assembly building, the Pakistan Tehreek-e-Insaf lawmaker said that the blaze was blatant evi-dence of corruption and inefficiency in the Pakistan Peoples Party-led Sindh government.
None of the relevant ministries and departments, including the labour department, local government department, Sindh Building Control Authority (SBCA) and district municipal authorities, regulated the industrial units mushrooming in residential areas without fulfilling legal requirements and safety guide-lines, censured Haleem, who was flanked by PTI lawmakers Firdous Shamim Naqvi and Haji Muzafar Shujrah.There are certain procedural re-quirements for establishing an industrial unit, which include ap-provals, no-objection certificates (NOCs) and supervision by the rel-evant authorities, said Haleem, adding that all the legal require-ments appeared lacking in the Mehran Town factory and even the Supreme Court's guidelines in this regard were not followed.
The opposition leader demanded that a fair and transparent inquiry of the incident be conducted and Sindh Chief Minister Syed Murad Ali Shah, Sindh Local Government Minister Nasir Hussain Shah, Labour Minister Saeed Ghani and Advisor to CM on Law Murataza Wahab, along with the heads of the relevant regulatory bodies be interrogated for their negligence and apparently corrupt practices. He reiterated that it was the onus of the Sindh government to protect the lives of citizens by ensuring compliance with relevant laws and regulations.
'PDM rejected'Expressing his views on the Pakistan Democratic Movement's public gathering in Karachi, Haleem said that the Pakistani na-tion had rejected PDM's narrative. The opposition alliance is worried that people are not attending their rallies so they bring students from madrassas to fill the seats, alleged Haleem, adding that this was against political and ethical values.
By bringing students to PDM's public gatherings, the Jamiat Ulema-e-Islam-Fazl (JUI-F)was jeopardising the life and well-being of children sent to madrassas to acquire a religious education, claimed Haleem. Do not expose under-age students, who are not even vaccinated, to the coronavirus, he added.
Censuring JUI-F for their double standards regarding participation of women in political activities, Sheikh said that PDM President Maulana Fazlur Rehman could hold meetings, press conferences and public gatherings with Pakistan Muslim League-Nawaz (PML-N) stalwart Maryam Nawaz but is against women's participation in the PDM's public gatherings.
Pakistani women - from Mohtarma Fatima Jinnah to Shaheed Benazir Bhutto - have al-ways played an important role in politics and political movements of Pakistan, Haleem noted, adding that that about half of the country's population could not be denied their fundamental right of participation in political activities.
Moving on to the PPP, which broke away from the opposition alliance last April, Haleem said that the Sindh government appears to believe that Covid-19 only targets schools and businesses but cannot infect people at political gatherings and rallies.
He took exception to PPP Chairperson Bilawal Zardari's criti-cism of the PTI-led federal govern-ment and urged the PPP leadership to show their performance and achievements for their 13-year rule in Sindh. "The PPP's achievements include deaths of Thar's children due to malnutrition, water scarcity, dilapidated roads and infrastruc-ture, heaps of garbage, sewerage ponds, closed schools, insufficient health services, and roaming dogs.
"'Plight of Sindh's people'Meanwhile, former opposition leader in Sindh Assembly and PTI MPA Firdous Shamim Naqvi held the PPP-led provincial government responsible for the plight of Sindh's people. In the past 13 years, the number of schools has decreased and the number of teachers hired are 173,000 though there are 300,000 positions, he said, adding that 4.5 million children were out of schools.
Naqvi claimed that the provincial government stood as an obstacle in the issuance of health cards to Sindh's people. He alleged that other provinces benefited from bet-ter medical facilities.
He further accused the PPP government of hindering employment opportunities and progress by block-ing the controversial Bundal and Bhandar island development proj-ects floated by the PTI government in the Centre.
He recalled that in 2009, the Japan International Cooperation Agency (JICA) had identified seven lines of mass transit in Karachi and said that thus far only one of them - the Bus Rapid Transit (BRT) Green Line project - is near completion thanks to the federal government.
The provincial government could not start work on the Red Line (BRT) in three years while the Blue Line BRT was embroiled in corruption, said Naqvi, adding that the Malir Expressway is also delayed due to repeated changes in design.
He added that the Sindh government was not convening a meeting of the Provincial Finance Commission and was delaying local government elections citing con-cerns over the 2017 population cen-sus while contesting by-elections.
COMMENTS
Comments are moderated and generally will be posted if they are on-topic and not abusive.
For more information, please see our Comments FAQ