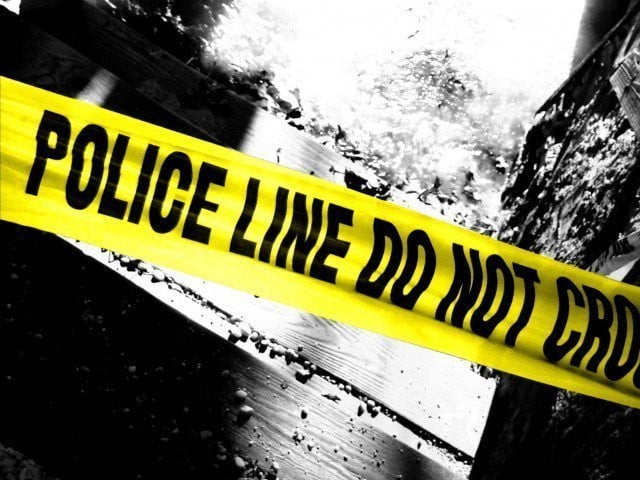 ---
CHAK JHUMRA:
Two men, of whom one had been recently released from jail after bail in a murder case, were shot dead allegedly over an old feud while they were going for a court hearing.
Both the deceased were reportedly nominated in a number of criminal cases.
A constable was injured when police came under fire during a raid on an outhouse to arrest the suspected attackers. He was taken to a hospital.
A heavy contingent of police reached the spot, arrested several persons and reportedly thrashed them after the incident. The police handed over the bodies to the heirs after postmortem, registered cases against the suspected attackers and carried out raids to arrest them.
Later, dozens of relatives of the murdered men protested by blocking a road and accused a member of Punjab Assembly from the ruling coalition of protecting their rival group.
One of the victims, Rizwan Shaukat alias Hira Cheema, a resident of Chak 160RB near Malehwani stop on Jhumra Road, had returned from jail after his arrest in a murder case. He was going on a motorcycle for court hearing in the morning along with Muneeb, son of Ehsan, when they was shot by men in a car chasing them near Sultan Nagar Faisalabad Road.
As a result, Rizwan and Muneeb died on the spot.
Read Motorcyclists gun down youth over enmity
Upon receiving information about the incident, police officials reached the spot and took both bodies into custody. The bodies were handed over to the families of the deceased after postmortem and and a case was registered against suspects nominated by the complainants.
According to sources, seven cases of various crimes, including murder, were registered against Rizwan in Chak Jhumra, People's Colony and Khurrianwala police stations.
He and his accomplices had allegedly shot dead two brothers, Hamid Naveed and Umar Hanan, on November 1, 2015, in Bangey Chak. He went to jail in the double murder case registered at Chak Jhumra police station and was recently released on bail.
The other victim, Muneeb Jutt, was also reportedly involved in several cases. Both were residents of Bangey Chak in the 160RB area.
After the incident, a team of Chak Jhumra police, led by SHO Asif Nadeem, raided the dera of one Sabir Shah in a nearby village to arrest the suspected killers. However, the suspects allegedly opened fire on the police, leaving Constable Haq Nawaz injured.
Later, a heavy contingent of police reached the spot, cordoned off the den, and detainef several persons.
The personnel reportedly took the arrested people to the police station and thrashed them in the presence of an official. Meanwhile, in another incident, 28-year-old Maqsood, son of Liaqat, and 26-year-old Zafar, son of Akram, residents of Chak 279GB Buda Da Chak, were going to Jaranwala on a motorcycle were shot dead by their opponents.
They were attacked outside their village allegedly by Sajjad and others, who chased them on a motorcycle and opened fire on them. They died on the spot. Officials of Jaranwala police reached the spot after the incident and sent the bodies for postmortem. The bodies were later handed over to the families.
Published in The Express Tribune, September 3rd, 2021.
COMMENTS
Comments are moderated and generally will be posted if they are on-topic and not abusive.
For more information, please see our Comments FAQ