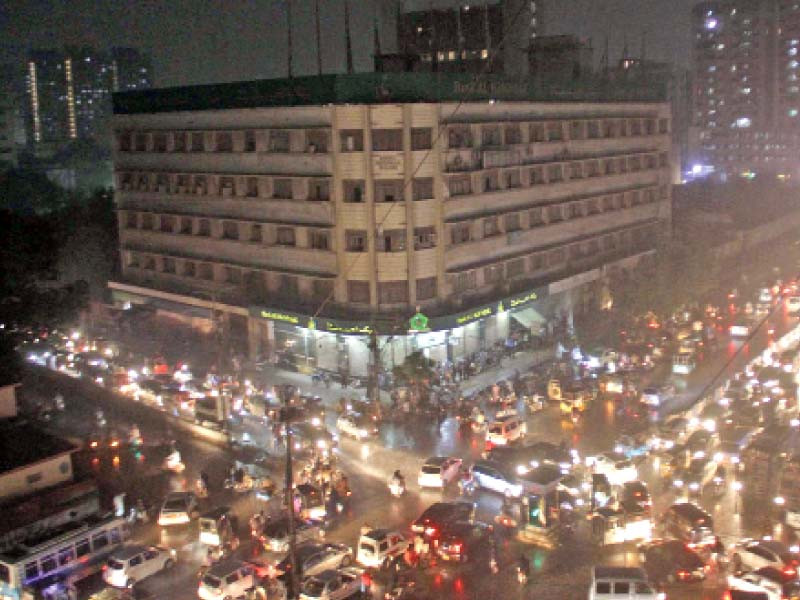 ---
KARACHI/HYDERABAD:
A fault in the 500KV grid station in Jamshoro district triggered a massive power breakdown in Karachi, Hyderabad, Mirpurkhas and Nawabshah divisions on Wednesday. The respite from heat and humidity offered by mild to heavy showers across the metropolis was marred by the disrupted power supply much to the dismay of citizens.
An official of the National Transmission and Dispatch Company (NTDC) said that the fault occurred at 4.10pm, halting the power supply to grid stations in the four divisions.
Strong winds reportedly damaged three isolators of 220KV each, which were installed in the grid and led to tripping of all power transformers. The power supply was consequently halted to four circuits supplying electricity to Karachi and two circuits connected with the grids in Hyderabad and Tando Muhammad Khan districts.
In the metropolis, the blackout, which lasted till at least 6pm, temporarily suspended supplies to Jinnah International Airport, jammed wheels of industry and disrupted commercial and residential lives.
A spokesperson for the K-Electric said that the power supply to Karachi was disrupted due to tripping in an EHT (extra high tension) transmission line caused by lightning strike on the Jamshoro circuit, resulting in disconnection between KE and NTDC circuits. "KE's power plants are operating in island mode which has enabled swift restoration of power. Power connections between KE and NTDC have also been restored."
In some areas the power supply was restored briefly before being suspended again as mild to heavy showers lashed the city.
Although the power utility claimed power supply was restored to all grids and the restoration process was underway, there was reportedly no electricity in several areas including Defence, Clifton, Saddar, MA Jinnah Road, Malir, Gulshan, Landhi and Korangi.
Read ECC extends power subsidies
KE had, however, restored power supply to various strategic locations including the Karachi Water and Sewerage Board pumping station and airport.
"Our connection with the National Transmission Despatch Company (NTDC) has been completely restored. Power supply to major parts of the city has also been completely reinstated. We are gradually energizing feeders in various localities. Our ground teams are available to rectify any localized fault. Reports of sporadic rain across the city also slowed our progress as we had to initiate our safety protocols. Areas with high incidences of theft and illegal usage of electricity through kundas were kept off for safety reasons until ground teams provided clearance," read a statement issued by the power utility.
In Hyderabad too, the power supply was briefly restored before being suspended again. A spokesperson for Hyderabad Electric Supply Company, Sadiq Kubar, said that the supply to 71 grid stations of the company remained affected. The restoration began around 6 pm.
The outage also affected Dhabehi pumping station in Thatta district, which suspended water supply to Karachi as the 72-inch-water pipeline of the station ruptured.
Meanwhile, the Pakistan Meteorological Department has predicted moderate to heavy rains today (Thursday) and tomorrow (Friday).
Published in The Express Tribune, September 2nd, 2021.
COMMENTS
Comments are moderated and generally will be posted if they are on-topic and not abusive.
For more information, please see our Comments FAQ