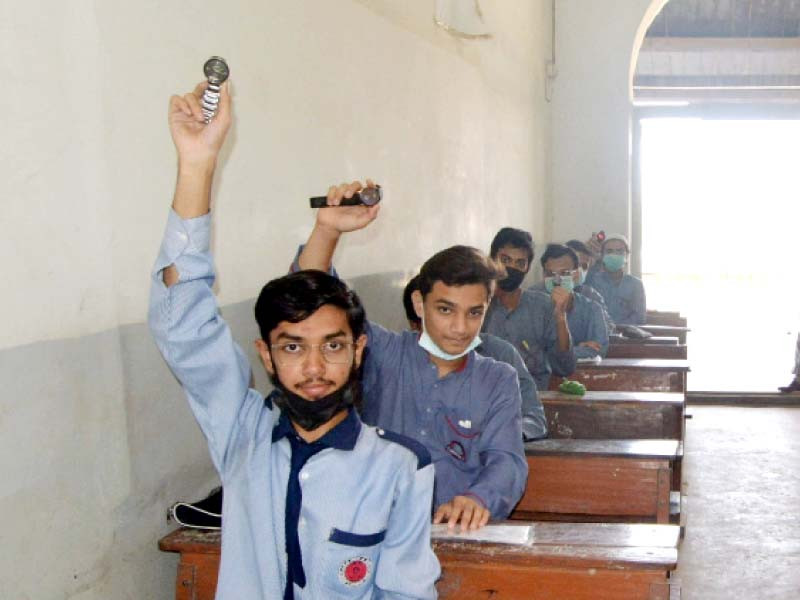 ---
PESHAWAR:
The provincial government has started double shifts in government schools under which in the second shift a primary school will be upgraded to middle school, middle school to high school and high schools to higher secondary school status.
Addressing a press conference here in Peshawar Education Minister Shehram Khan Tarakai said that in the first phase the double shift system in the schools will be started in 16 districts of the province. He said that in the second phase more districts will be included in the programme.
"In the first phase we are starting second shift in 120 schools including 76 male and 44 female schools. Around 48 male schools will be upgraded from primary to middle and 20 will be upgraded from middle to high schools. Similarly, in the first phase 28 female primary schools will be upgraded to middle and 16 from middle to high," he informed reporters, saying that the main aim of this program and project was to address the issue of dropouts in the province and provide education opportunities to girl students schools nearest to them.
"We are hiring four teachers and one naib qasid in middle schools and seven teachers, one clerk and one naib qasid in high schools and teachers will be hired from open market under PTC too," he said, adding that chances will be provided to teachers already working in the first shift in the schools.
Read More: Schools plan outdoor classes protesting 'indefinite' closures
"Around 704 people will be recruited in 120 schools. Our first priority is far flung areas where there is a shortage of schools. More schools will be included in the program in the coming days," he said, adding that the second phase will be introduced soon.
Replying to a question, he said that the results of class 10 and intermediate will be announced on September 15 and after that the results of class nine and first year will be announced.
The minister said that they are recruiting 22,000 new teachers in order to overcome the shortage of teachers in the school, adding that 3,000 schools leaders are also being hired. He said that smart schools and early childhood education program will also be launched soon.
Published in The Express Tribune, September 1st, 2021.
COMMENTS (1)
Comments are moderated and generally will be posted if they are on-topic and not abusive.
For more information, please see our Comments FAQ