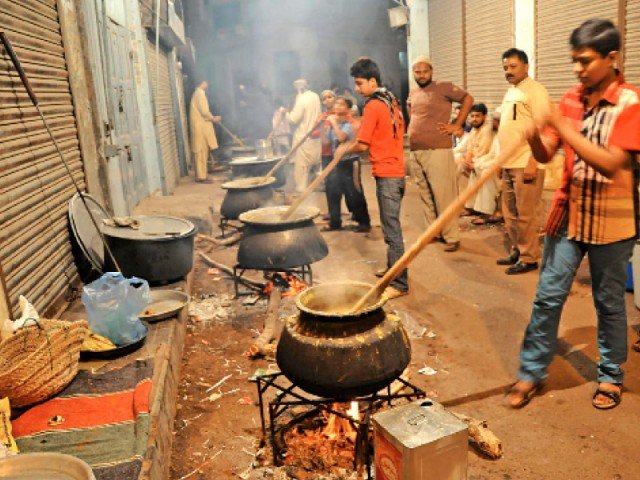 ---
KARACHI:
An increased demand for various food items, especially Haleem, compelled caterers and pakwan centres to stop accepting further orders ahead of Ashura. Several caterers and citizens could be observed preparing and distributing religious feasts on Muharram 9 and 10. It was also a high time for decoration businesses to rent utensils and other items, needed for preparation of food.
Muhammad Nadeem, owner of a catering service in the city, told The Express Tribune that despite high prices of ingredients, people continue preparing and distributing food items during a period from Muharram 1 to Safar 18.
According to Nadeem, Haleem is the most demanded food item during the month of Muharram and he sees an overwhelming increase in the number of orders for making this particular dish. Consequently, caterers and decoration businesses experience shortage of various items, used to prepare Haleem. He mentioned, "A large number of degs have been sent to Gujranwala for preparation of Muharram feasts, and so we are unable to meet rising demand to make Haleem in the city. He added that rentals for degs are in the range of Rs1,000 to Rs1,500 per day while daily rent for wooden mixers has also surged to Rs300. The price of Kafgir, a big iron spoon used in the preparation of haleem, has also gone up. The rent of the iron tub has also gone up to Rs5,000. The rent of iron stove has gone up Rs800.
Sajid, who is in the business of making Haleem, told The Express Tribune that citizens show an increased interest to prepare haleem during the month. This year, the price of a normal deg of Haleem is in the rage of Rs8,000 to Rs10,000. He said that Liaquatabad, Federal B Area, Gulshan-e-Iqbal, Kharadar, Malir and Korangi are the main areas where haleem preparation activities are seen.
Most caterers and citizens have switched from traditional items to electric grinders and mixers to prepare haleem which are available for a daily rent of Rs500. He added that in addition to Haleem, various decorative items used in Majalis and other congregations are also in short supply these days.
A large number of citizens are buying meat, grains and other ingredients used in Haleem.
Muhammad Sajid, a cook specialising in preparing haleem, told The Express Tribune that the prices of meat and other ingredients have gone up by an estimated 15 to 25 per cent as compared to the prices seen last year. Besides, Haleem, Biryani, Chana Pulao, Kheer, Qorma, Roti and Taftan were also the most demanded food items distributed during Muharrum 9 and 10.
Published in The Express Tribune, August 21st, 2021.
COMMENTS
Comments are moderated and generally will be posted if they are on-topic and not abusive.
For more information, please see our Comments FAQ