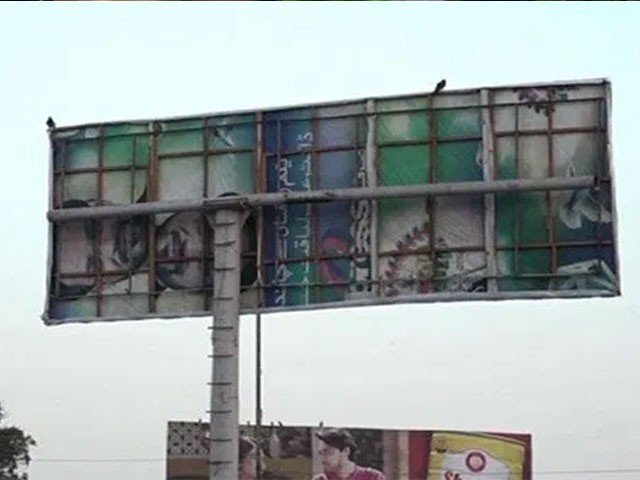 ---
LAHORE:
Instead of protecting foreign investors, the Faisalabad Parks and Horticulture Authority (PHA) is targeting multinational companies (MNCs) after awarding a contract for the collection of advertisement charges.
In disregard for court orders, instead of collecting the advertisements dues itself, fear and panic are being spread in the name of recovery by awarding a contract through collusion.
Despite a restraining order, the offices of companies with foreign investment were raided and signboards installed at a high cost were smashed whereas threats to shut down the offices were also hurled.
Across Punjab, PHAs and municipal corporations themselves receive the advertisement dues.
However, in Faisalabad, investors are being discouraged and dozens of complaints are being received daily in this regard.
According to the complainants, the contractor removed the valuable billboards of big companies without any notice. There is a danger of disturbance in the city due to protests against bullying by the contractor's staff.
The police are also allegedly supporting the contractor. A few days ago, a case of vandalism in the office of a multinational company was registered in Madina Town, but instead of arresting the culprits, they are allegedly being protected.
When contacted, PHA DG Asima Cheema said, "We have nothing to do with the affairs of the contractor. According to the rules and regulations, the contract was awarded in a transparent manner to increase government revenue."
She said the PHA had nothing to do with the recovery process as it is being pursued by the staff of the contractor.
Efforts were also made to contact Faisalabad CPO Sohail Chaudhry for comments, but he could not be reached.
Published in The Express Tribune, August 17th, 2021.
COMMENTS
Comments are moderated and generally will be posted if they are on-topic and not abusive.
For more information, please see our Comments FAQ