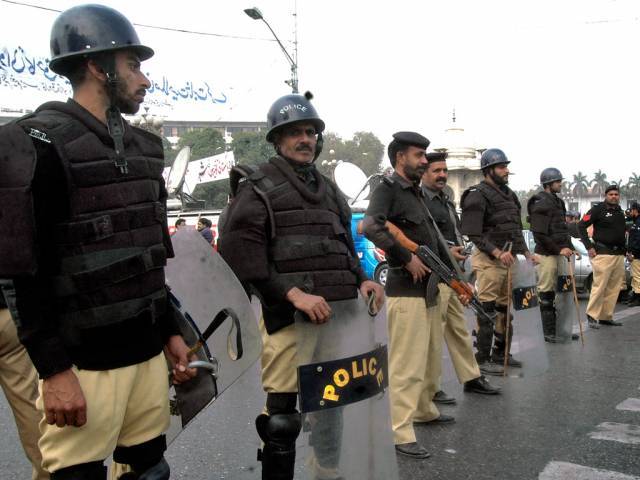 ---
RAWALPINDI:
A man was seriously injured in an alleged police encounter in the Dhok Kashmirian area in the precincts of Sadiqabad police station in Rawalpindi.
According to details, a young man named Usman was shifted to Benazir Bhutto Hospital (BBH) late last night in critical condition. The victim's family said that the police fired upon the victim and injured him whereas the police asserted that the suspect was involved in serious crimes.
A large number of family members of the victim rushed to the hospital as soon as the incident was reported where the situation became tense in the presence of police.
The victim's cousin, Muhammad Yousuf, said that Sadiqabad police picked up his cousin from the road in the presence of people and took him away. After some time, it was reported that he had been shot and had been seriously injured. He added that when the injured man reached the hospital, the police personnel tried to create hurdles in the victim receiving medical treatment.
The injured Usman's relatives were of the view that if the victim was wanted in any case then he should have been produced in court after being taken into custody.
READ Police grill co-suspect in Khokhar's murder case
The mother of the injured said that her son, an orphan, is the victim of police brutality and has been subjected to inhuman treatment, and he should be provided justice.
Meanwhile, a video statement of the victim also came to light which was recorded in the hospital. In the statement, Usman said that four policemen, two of whom he identified as Faisal and Nadeem Sethi, picked him up from the road and took him to the entrance of the police station. However, they did not enter the station and took him to Jamia college where they shot him. The victim said that he doesn't know the names of the other two policemen.
On the other hand, a police spokesman said the injured man is a criminal who along with an accomplice opened fire on a police patrol. During the exchange of fire, the suspect was injured. The spokesman said weapons had also recovered from his possession, while his accomplice, identified as Faiz alias Billa, managed to escape from the scene. A search operation has been launched to apprehend him.
The police spokesman added that the suspect is wanted in attempted murder and terrorism cases.
Rawal SP Ziauddin said that the offender will be sent to jail for an identification parade after his arrest. Meanwhile, the injured Usman is being treated in a hospital where a heavy contingent of police has been deployed.
Published in The Express Tribune, August 12th, 2021.
COMMENTS
Comments are moderated and generally will be posted if they are on-topic and not abusive.
For more information, please see our Comments FAQ